Woman's before-and-after photo goes viral — but for an unexpected reason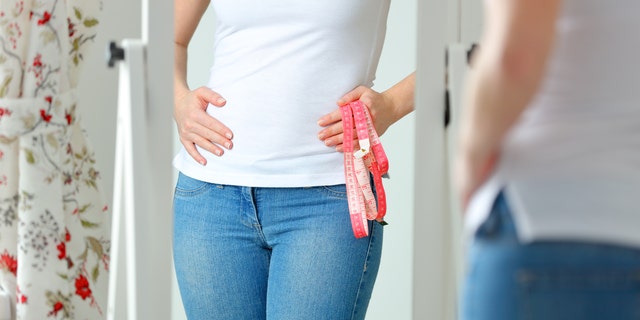 In popular culture, achieving a trim and toned body is often equated with happiness, but one young woman is slashing that notion.
On May 4, Hannah Foster, of Northern California, shared a pair of side-by-side photos on Instagram: one in which she's wearing a polka-dot string bikini and another in which she's wearing a one-piece cutout swimsuit.
"The girl on the left hated herself vastly more than the girl on the right, even though she weighed 30 pounds less than right-girl," Foster wrote in the post, which had received about 340 likes as of Friday morning. "She was in a nasty relationship, living abroad and lonely, and despite losing weight STILL HATED HER BODY.
"Losing weight," she writes in the post, "won't make you love yourself."
BLOGGER POSTS UNUSUAL TRANSFORMATION PHOTO
She told Yahoo! Beauty that she only came to that realization after several years of struggling to accept herself.
"I told myself, subconsciously and consciously, that if I could just lose a little bit more, restrict calories a little bit more, find a little more time to work out — that I could be happy," she told the website.
In the first picture, she told Yahoo, she is in Spain, where beaches are topless, and people flaunt all different kinds of bodies.
"It really felt like a safe space for a bikini," she told Yahoo. "This was the first time I swam in the ocean — I'm from California, but the northern part, where the water is 50 degrees and rocky. I wanted to memorialize this moment."
In the second photo, she's in Hawaii, her "body-image revolution trip," after receiving a number of mental health diagnoses and prescription medications.
WOMAN'S HEARTBREAKING POST ON DEPRESSION GOES VIRAL ON FACEBOOK
"The turning point for me was talking with someone about disliking my body and she said, 'If you talked to another person the way you talked to yourself, you would seem like the most horrible, nasty person,'" she told Yahoo. "'You're not a horrible, nasty person, so why do you treat yourself that way?' This just blew my mind."
Ultimately, Foster's body transformation coincided with her mental health transformation. Today, she understands that, regardless of what society wants to make us think, being slim doesn't always result in a happy life.
"I think there's this ideal content point that women fantasize about — I know I did — that if you can just get there then you will be happy and perfect and your whole life will be better," she said. "This point does not exist."