Woman sues Walmart over beauty product placement, says retailer is promoting 'racial stereotype'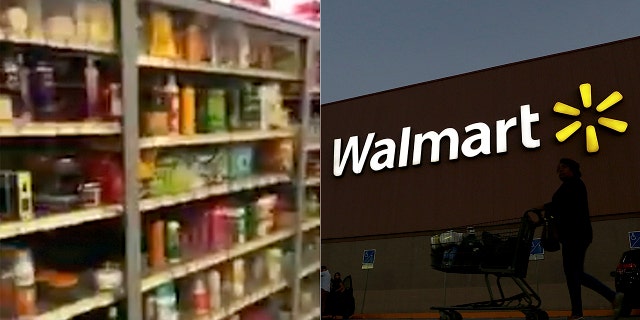 A woman is suing Walmart over alleged instances of racial discrimination in its beauty aisles.
Essie Grundy, who was shopping at a Walmart in Southern California, was upset to find beauty products targeted toward African-Americans locked behind a glass case, while other, sometimes more expensive products were placed on open shelving.
JOURNALISTS' GROUP 'GRATEFUL' AFTER WALMART PULLS 'OFFENSIVE' T-SHIRT
"When I walked down the aisle and saw that Walmart had placed all of the African-American hair and skin products under lock and key, I had to pause," Grundy said at a press conference on Friday.
Grundy also said that employees told her she needed to be brought to the register by an employee if she wanted to purchase anything, and was not allowed to touch the product prior to buying it.
"It perpetuates a racial stereotype that African-Americans are thieves," Grundy's lawyer, Gloria Allred, stated.
Grundy said she was buying a comb that cost 48 cents and did not understand why that item was locked behind glass, or why she had to be escorted to the register.
"I felt that I was being treated as a person who might be a thief, even though I have no criminal history," Grundy said at the conference.
Other people on social media have called out the retail giant for segregating beauty products, calling the practice "racist and wrong."
Twitter user Detrick Manning posted a video of the beauty section at his local Walmart, writing, "@Walmart Do you want to explain why one of your stores has locks on ONLY the black hair care products? In case you weren't aware, this is racist and wrong."
FOLLOW US ON FACEBOOK FOR MORE FOX LIFESTYLE NEWS
Another user, @Kadia2_ took a similar picture at her Walmart and tweeted it with the caption, "If Walmart is gonna lock up hair products they need to do it for all of them not only the ethnic hair products."
Walmart has since released a statement concerning the lawsuit, claiming that the decision to lock up certain beauty products is made on a "store-by-store basis."
"We're sensitive to this situation and also understand, like other retailers, that some products such as electronics, automotive, cosmetics and other personal care products are subject to additional security. Those determinations are made on a store-by-store basis using data supporting the need for the heightened measures," reads the statement, via ABC7.
While we've yet to review a complaint, we take this situation seriously and look forward to addressing it with the court," the retailer added.