Woman claims 'marriage scam' tricked her into marrying complete stranger during mock wedding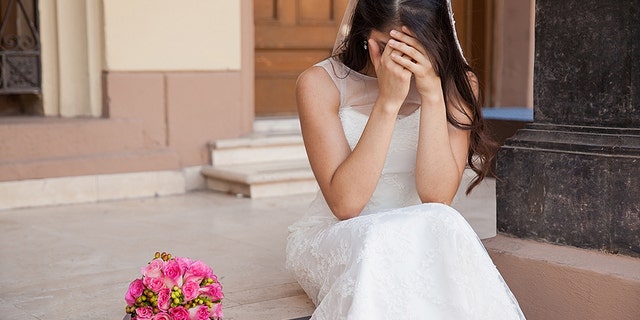 A woman claims she was deceived into marrying a stranger in a "mock" wedding in China.
The 21-year-old unidentified woman, from Hong Kong, said she was asked to play a bride in a mock wedding as part of training in order to become a wedding planner, the BBC reported Wednesday.
CANADIAN BRIDE'S HAIR GOES BLUE AFTER PEN EXPLODES NEAR HER HEAD, JUST DAYS BEFORE WEDDING
The woman originally signed up to be a make-up artist after seeing a post on Facebook. However, she was convinced by the firm to become a wedding planner instead because she could make more money. She received a week of free training in Hong Kong before traveling to the Chinese province of Fujian for the mock wedding.
However, as the simulated wedding went on, she and the groom signed a real marriage document. She was told by the company that the marriage would be voided after, the South China Morning Post reported.
The woman did not realize she was married until she returned to Hong Kong and sought legal help.
BRIDE CANCELS WEDDING AFTER FRIENDS AND FAMILY REFUSE TO FUND $60K CEREMONY
The purpose of the scam, according to the South China Morning Post, is to earn the Chinese resident a chance to apply for residency in Hong Kong, on the basis that they have a spouse in the region.
"It's a new form of marriage scam," Tong Kamgyiu, the director of the Rights and Benefits Committee of the Hong Kong Federation of Trade Unions, told the BBC. "I feel disappointed and cannot believe it's even happening in modern Hong Kong."
FOLLOW US ON FACEBOOK FOR MORE FOX LIFESTYLE NEWS
It was not immediately clear who the woman was married to but she may have to "apply for a divorce," the BBC reported. Each year, an average of 1,000 Hong Kong-China marriage scam cases occur, according to the outlet.