Why these thin people went to 'fat camp'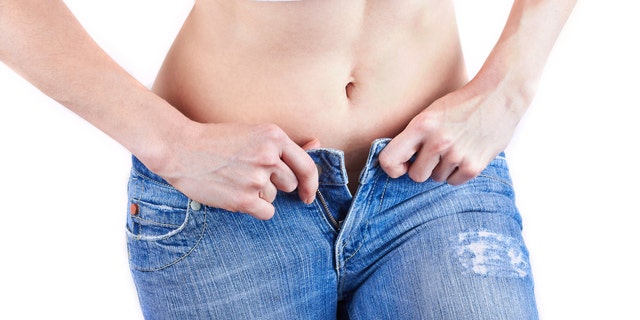 When Tasha Genatt was hiking in the heat for hours along the Appalachian Trail last spring, the 45-year-old could only think about one thing: the snack awaiting her at the top of the challenging climb. Sure, it was only eight paltry almonds, but in the moment, it was a feast.
"You know the snack is coming, so you're definitely looking forward to it," said Genatt, a stay-at-home mom with three kids on the Upper East Side of Manhattan, New York.
The hike was part of her daily routine at GroundSea Fitness, a new wellness retreat in the Berkshires where models and mommies go to shed weight from their already slender physiques.
"I'm always into losing a few pounds," said Genatt, who is 5 feet 2 inches tall and a size 0.
The health and wellness retreat — which had a soft opening last year and launched its first official season on Monday — is essentially a fat camp for women who are already thin and inspires healthy acolytes to be even healthier.
HOW TO DO INTERMITTENT FASTING THE RIGHT WAY
Attendees pay $6,000 for five days of hiking, wellness talks and low-calorie meals — there's a strict 1,500-calories-a-day diet — served in Mason jars.
Each session has no more than 11 attendees staying on the 120-acre grounds.
https://www.instagram.com/p/BUCW397FObn/?taken-by=groundsea_fitness
No alcohol or sugar is allowed, and Bulletproof coffee — a special joe blended with grass-fed butter and "Brain Octane oil" (a medium-chain triglyceride oil) that some swear by for weight loss — served only in the morning, is cut off by 9 a.m.
"You come back feeling so energized — your skin, your hair — and you lose 5 pounds," enthused co-founder Tracy Gaslow, 42. "It's possible to lose more — a man could lose 5 pounds a day."
PLUS-SIZE MODEL BUCKS IDEA THAT WOMEN SHOULD BE THINNER THAN MEN
Days at GroundSea start with a 6:15 a.m. wake up by a staffer who softly knocks on the door and whispers, "It's a beautiful day."
"It's very peaceful," Genatt said.
There's gentle yoga at 7 a.m., followed by a breakfast of gluten-free muffin atop a banana avocado drizzle (with cashew cream), a small slice of frittata and "maybe," Gaslow said, a small banana smoothie in a 1-ounce shot glass.
Then it's time for a four-hour, 8- to 12-mile hike and that snack of eight almonds.
Lunch is typically a vegan offering, like veggie stew or an "artful arugula salad," and often served in a Mason jar — "so you feel like you're getting more than you actually are," Gaslow said.
BOB HARPER DOES BURPEES AFTER 'WIDOW-MAKER' HEART ATTACK
Then there's daily in-room massages, more yoga and another light vegan meal for supper. After dinner, terry-cloth-robed guests sip hot water with lemon and gather around the fireplace in the 11-bedroom home to discuss their bowel movements.
"I'm obsessed with going to the bathroom," Genatt said.
Despite the restrictive nature of the retreat, program director Marc Alabanza insists it's safe. "Most people can survive three weeks without food," he said. "I don't have you long enough to starve you to death."
The GroundSea concept was cooked up by Gaslow and her former Dwight schoolmates and BFF Hollie Levy, 42, along with Gaslow's sister, Denise Kleinman, 46. The women have long been devotees of intense detox getaways on the West Coast and wanted to bring something similar to New York.
FOR 'CONBODY' WORKOUT, EX-CONVICTS TEACH FITNESS CLASSES
Gaslow did her first detox 13 years ago at an ashram in Malibu, Calif. She'd given birth three months earlier and was looking to get her body back.
While her husband watched the baby, she was weighed and measured, and stripped of the contraband — lollipops and caffeinated tea — she'd tried to smuggle in. After six days, she'd lost 10 pounds and quit caffeine.
"It's almost rehab on some level," she said. "This snapped me back [into shape]. I was like, 'I know the secret. It's an expensive one.' "
Alison Bernstein, a 42-year-old mom of four who lives in Greenwich, Connecticut, didn't have much to lose when she went to GroundSea last year, but the self-described "very active, fit" woman learned ways to be even healthier and dropped about 5 pounds.
CELEB TRAINER TRACY ANDERSON SHARES WHY LENA DUNHAM BEGAN EXERCISING
"I'm not an obese person and I have good eating habits. The bar is already high," said Bernstein, who adds that it must have been hard for the gurus to pinch an inch on her svelte frame.
"[They must have thought], 'How do we get 3 to 5 pounds off this one girl?' " she said.
Bernstein explained the retreat also forced her to re-evaluate her food sourcing: "I think I'm eating healthy, but even with organic milk: Where is that milk coming from? What farm is it coming from?"
Iskra Galic, a model with a PhD in psychology, is equally obsessed with wellness and attended the retreat last year with her boyfriend.
"Our body is our temple," she said. "I like to be in tune with my body the best way possible."
But, she admitted, it was especially challenging for her 6-foot-4 boyfriend who, she said, has a "Tarzan-like" build.
FOLLOW US ON FACEBOOK FOR MORE FOX LIFESTYLE NEWS
At mealtimes, he was left famished by the small portions and had to pounce on any bits of food other guests left on their plates.
"He needed a few extra bites," said Galic, who recently moved from New York to Southern California and declined to give her age.
Still, she said the $6,000 retreat was worth it.
"You definitely shrink, even in a couple of days," she said. "You're eating this organic, biodynamic fresh food that's cooked for you. You just feel reborn."