When It Comes to Bra Size, Don't Be Afraid to Think Big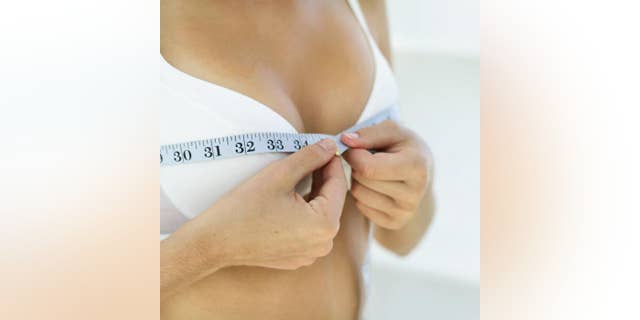 You may be hesitant about going up a size in your jeans, but when it comes to finding the right bra, sometimes bigger can fit better.
With a wider range in sizes available to women these days, it may be difficult to know what your actual size is, and tempting to stick with what's familiar. But experts say it pays to think outside the cup.
"We often think of an A as being very small and a DD being very large, but this isn't necessarily true," says Christina Remenyi, the owner and designer of Fortnight Lingerie, which carries bras in sizes A through F. "The letter part of a bra size represents the difference between your back and bust measurements. For example, a 36C is the same cup size as a 34D and 32DD. This is because as the back size, or the number, gets smaller, the difference between your back and bust increases. This causes the cup size, or the letter, to become larger."
Remenyi also believes lingerie designers, like herself, are realizing more women are looking for sizes beyond the A through D.
"I think the rise in bra sizes can be attributed to the rise in awareness about the importance of properly fitting undergarments," she explains. "For years, women have been wearing incorrectly fitting bras. The most common fit mistake is that many of us are wearing back sizes that are too big and cup sizes that are too small."
And with so many options on the market, it is easy for shoppers to be led astray.
"There are more bra sizes available now than ever before," explains Cora Harrington, Founder and Chief Editor of The Lingerie Addict. "In decades past, a woman had to either make herself fit into a B, C or D cup bra or simply go without…no matter her actual size. What we're seeing today is a rebound effect where, as more bra sizes become available both in boutiques and online, women have more options to find and buy their right size."
Harrington also adds that cup sizes now range from "approximately AAA through N," giving women today more options to support their shape.
David Kaufman, MD, Chief of Breast Surgery at St. Joseph's Hospital in New York advises all his patients to get fitted at a reputable corset shop or specialty lingerie boutique to determine their correct size with the assistance of a professional fitter. Not only will wearing the right size boost your confidence, but it can alleviate some of the physical problems that come with a larger bust, including back and neck aches.
"There is no good or bad size," explains Maureen Stabnau, senior vice president of merchandising at Bare Necessities. "All women deserve the best fitting, most comfortable bra possible and we want to help our customers achieve that. This is why we offer band sizes from 28 to 56 and cup sizes from AA to N. The great news is that over the past five years, the industry has embraced that idea, as well as offer a much larger assortment of styles in full busted and full figure sizes than ever before."
Need an extra push to get yourself fitted and embracing your shape? Remenyi says there are four things you should look out for.
"You want the band to fit snuggly on the loosest set of hooks. This is so that as your bra loosens over time, you can ensure your bra is supporting you perfectly over a longer period of time," she explains. "The wire should fit flat against your body from the center all the way to the sides. The cups should fit smoothly and there should be no bulging out of the top or sides. And finally, the straps should just be resting on your shoulders-not digging in or carrying any weight.