What's 'invisible baldness'? 6 warning signs you may be at risk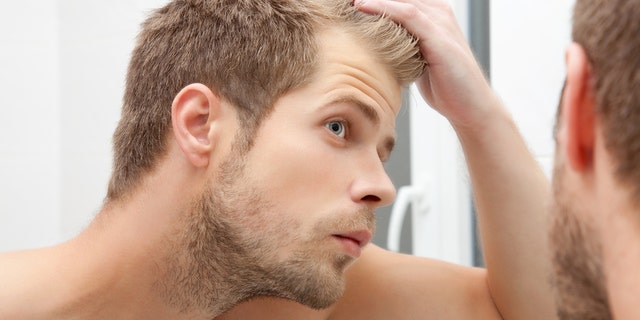 A typical healthy scalp has about 100,000 hairs — and you can lose up to 50,000 of them without noticing any hair loss, Dr. Jerry Shapiro told Fox News. Shapiro is a professor in the Ronald O. Perelman Department of Dermatology and director of Hair and Scalp Disorders at NYU Langone Medical Center.
WHY YOU'RE GOING BALD — AND HOW TO GET YOUR HAIR BACK
It's called invisible baldness: thinning hair that essentially goes unnoticed until you hit that 50 percent mark. If you feel like you may be at risk, see a dermatologist to figure out what the root cause of your hair loss may be, considering many different underlying conditions could cause hair thinning, Shapiro said.
You could also use a device called HairCheck to measure cross-sectional bundles of hair on the scalp, Dr. Alan J. Bauman, a board-certified hair restoration physician based in Boca Raton, Florida, told Fox News. By tracking the amount of hair in specific locations over time — or comparing them to other areas of the scalp — you can figure out just how much hair you're losing.
RESEARCH SUGGESTS THIS GROUP MAY BE MORE AT RISK OF GOING BALD
But how do you know if you may be experiencing invisible baldness, and should make an appointment with a physician? Fox News spoke to Bauman and Shapiro about the potential signs to watch out for:
1. A change in hair texture
If you notice a change in hair texture, such as if your hair feels thinner or lighter, you may be experiencing some hair loss, Bauman said.
2. A thinning ponytail
Similarly, for women, a thinning ponytail can be a sign of hair loss — for instance, if a woman finds she can twist her elastic around her hair many more times than she's used to, Shapiro said.
6 WOMEN REVEAL THE HAIR LOSS 'REMEDIES' THAT DIDN'T WORK
3. Family history
If you have a family history of hair loss or hair thinning, you may be at greater risk of experiencing it yourself, Bauman said.
4. Changes after a haircut
You may notice, if you get a haircut or change your hairstyle, a loss of coverage in certain areas that you hadn't noticed before, Bauman said.
5. Hair shedding
Men and women experiencing hair loss may notice more shedding after showering, brushing, or combing, Shapiro said.
FOLLOW US ON FACEBOOK FOR MORE FOX LIFESTYLE NEWS
6. Hair loss in lower-density areas
Some areas of the scalp have less hair density to begin with, including the temples, Bauman said. You may be able to spot hair loss more easily in these locations.