Washington officials confirm case of crippling, highly infectious elk hoof disease in Blue Mountains
NEWYou can now listen to Fox News articles!
At least one elk in Washington's Blue Mountains is confirmed to have a crippling and deforming condition known as elk hoof disease, state wildlife officials announced this week.
The disease — scientifically known as treponeme-associated hoof disease (TAHD) — was discovered in an elk shot by a hunter in January. The hunter, who has not been identified, noticed the elk's hooves were deformed, which led him to give the animal's hooves to officials with the Washington Department of Fish and Wildlife (WDFW), who later sent them to researchers with the Washington Animal Disease Diagnostic Laboratory at Washington State University for testing.
DEADLY 'ZOMBIE' DEER DISEASE THREAT PROMPTS LOUISIANA LAWMAKER TO ACT: IT'S 'CRITICAL' TO FIND A CURE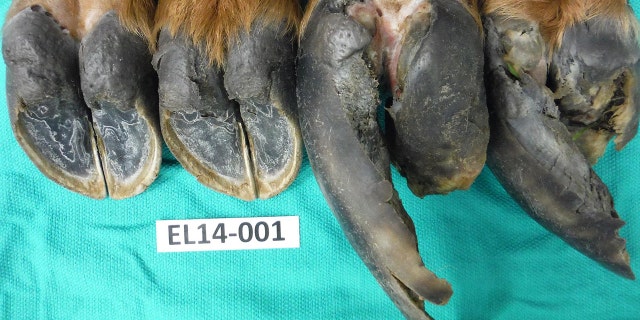 The results were positive for the crippling disease that "causes hoof deformities, which can make elk walk with a pronounced limp," the WDFW said in a Tuesday statement.
The confirmed case is the "farthest east we've documented hoof disease in Washington," Kyle Garrison, WDFW's statewide hoof disease coordinator, told The Spokesman-Review.
Scientists are still investigating the disease, which is not known to affect humans. It is likely caused by some sort of infectious organism and researchers suspect the bacteria is possibly "maintained and/ or transferred in moist soil via the hooves of elk and/ or other animals such as sheep and cows," the Oregon Department of Fish and Wildlife (ODFW) says.
That said, much is still unknown about elk hoof disease and there is currently no cure or preventative vaccine. The WDFW says the disease "appears to be highly infectious among elk" of any sex or age.
It's somewhat common in Washington, becoming more prevalent in 2008 when hunters and outdoorsmen reported elk with deformed, broken or missing hooves. This sparked a "scientific investigation into the underlying cause," according to the ODFW. The wildlife agency estimates that roughly "20 to 90" percent of herds in Washington have shown lameness that may be related to elk hoof disease.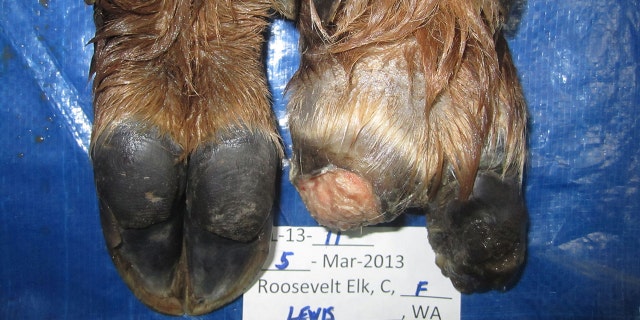 DEADLY 'ZOMBIE' DEER DISEASE COULD POSSIBLY SPREAD TO HUMANS, EXPERTS WARN
"Elk with the disease can have deformed, overgrown, broken or sloughed hooves. These lesions can be painful and cause limping or lameness when walking," the ODFW explains, though noted other diseases or conditions can also cause similar deformities in elk.
"It's certainly something we should all be concerned about," Garrison added. "It's a disease that is very difficult to manage and we don't know what the future holds for the disease's manifestation in the Blues [Blue Mountains]."