Toddler interrupts wrestling match to 'save' older sister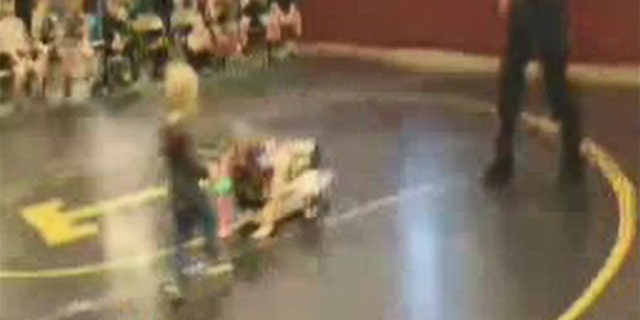 Four-year-old Ruby Lewis' first wrestling match wasn't supposed to be a tag-team event, but her younger brother Jash didn't get the message.
On Sunday, Ruby was participating in her first-ever match against an opponent, and her family was right there on the sidelines to cheer her on. Jash, however, had apparently mistaken the match for a real-life fight and rushed out to "save" his sister from her adversary.
Screaming out onto the mat, Jash rushed directly toward Ruby's opponent, Ryan, and attempted to throw him off of his sister, much to the audience's amusement.
WIDOWED GRANDMOTHER SURPRISED WITH EMOTIONAL HOLIDAY GIFT
"That is the best thing I've ever seen," one spectator can be heard saying in a Facebook video shared by Ryan's mom, Tori Prendergast.
"That little boy's upset, man," said another spectator, laughing.
Jash and Ryan were soon separated, but Ryan's mom has since told the Huffington Post that she thought it was "cute" how Jash, 2, protected his older sister.
"I only have boys, but if I had a daughter, I hope they would protect their sister like that," said Prendergast.
HEROIC HIGH-SCHOOLER HELPS EXHAUSTED MARATHON RUNNER
Ruby and Jash's mom, Crystal Lewis, said her kids were originally introduced to the sport by her husband, Joel, who used to wrestle when he was younger. As a result, Jash already "plays with wrestling gear" and wears "helmets and shin guards and mouth guards and singlets" around the house, Crystal told WNDU.
He's also pretty protective of his big sis, she confirmed.
"Some people's kids are jealous of the next sibling down, and neither one of mine have ever been that way," said Crystal. "They're always like, 'That's my sister.' 'That's my brother'."