These women are asking their bridesmaids to lose weight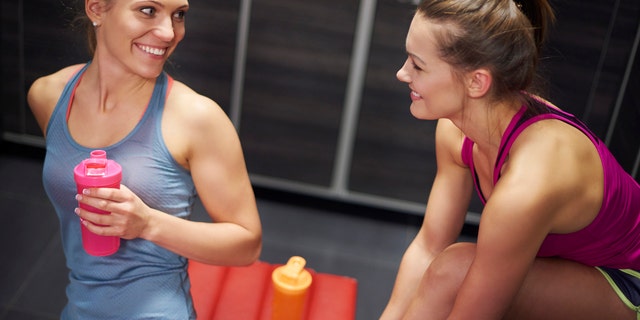 With only eight weeks to go before the big day, Sheena Malik is shedding for the wedding. It's not her wedding, but that doesn't mean she's slacking off.
Malik, 29, has kept up a rigid workout schedule and strict diet before her main gal Ashley Barton's wedding on the Upper East Side of Manhattan, New York, this summer. The maid of honor's hope is to lose 15 pounds before the big day.
"Wedding photos are shared more now, so it's important to look good," said the physician, who is from Southern California.
Thanks to social media, looking picture-perfect is the latest pressure on bridal parties. Getting in shape, losing weight, attending wellness programs and having cosmetic procedures alongside brides-to-be are often encouraged — if not downright demanded — by the brides themselves.
"I need everyone on board," said Barton, a 30-year-old public relations executive who lives in downtown Brooklyn, New York. "I want my guests to invest in their appearances, feel pretty, go buy the dress of their dreams and feel confident in themselves. I want everyone to feel and look beautiful."
AN 'EXERCISE PILL' MAY REPLACE WORKOUTS IN THE FUTURE
Barton has suggested that all her bridesmaids get fit, as well as use hair extensions. Even one bridesmaid who just gave birth could stand to drop a few pounds, laughed Barton, who's lost 33 pounds so far in her race to the altar. Even at her bachelorette party, bridesmaids were forbidden to wear swimsuits with straps, lest they have unsightly tan lines for the wedding.
"It's the bride's day, and she wants not only the day to be perfect, the weather to be perfect, the dress to be perfect — she wants her bridal party to be perfect because it's a reflection of her," said Norman Rowe, a plastic surgeon on the Upper East Side of Manhattan. He says he's been surprised to see an increasing number of brides come in with their maids of honor, and even entire bridal parties, to get filler or Botox.
Malik and Barton have both scheduled a Botox treatment with Rowe a week before Barton's July wedding. Barton is also encouraging another bridesmaid to have her earlobe cosmetically fixed to wear the chandelier earrings she's picked out for the entire wedding party.
"I can't have her in studs," Barton said.
A DUMBBELL WORKOUT TO TONE YOUR PROBLEM AREAS
Bride-to-be Whitney Tingle, the 31-year-old co-founder of meal delivery company Sakara Life, is encouraging her bridal party to lose weight before her June wedding in Tel Aviv, Israel, by purchasing Sakara Life's dietetic, "clean eating" meal plans. The company's five-day meal plan starts at $410 — though Tingle is offering them 15 percent-off coupons.
"They're going to be standing up there with me, so they want to look good and feel good too," said the slender, blond entrepreneur.
As her wedding draws nearer, Tingle and her bridesmaids will all be dieting with Sakara — a favorite among Victoria's Secret Angels — and exercising together. Her bridesmaids willingly signed up for the diet, she said, which they'll use in the weeks before the wedding. Tingle is also coordinating group yoga sessions and organizing an outdoor dance party to make the workouts fun.
"The day after the wedding we're doing a beach day and then going to the Dead Sea," Tingle said. "We're going to be in swimsuits, so they're all motivated."
HOW A MICHIGAN MOM USED RUNNING TO DROP 150 POUNDS
Boutique gyms are catching on to the trend, with studios including Y7 Studio, Pure Barre, Physique 57, SoulCycle and others hyping private sessions for bachelorette parties. In addition to offering an eight-week bridal fitness plan, cardio dance studio 305 Fitness boasts bridal-shower fitness classes, and boxing gym Shadowbox offers a catered session with customized gloves and shirts.
Audrey Eisenberg threw a bridal shower for her sister Dana Duber at 305 Fitness before Duber's wedding last October. It was just a small part of their overall fitness journey, they say. Both the bride and the maid of honor dieted, trained for a 10-mile run, and took spin and boot camp classes together. Eisenberg said she was motivated by the impending photos.
"I had a dress that was very form-fitting and I wanted to feel my absolute best," said the 24-year-old special education teacher, who lives in Chelsea.
7 TIPS FOR REDUCING HUNGER IF YOU'RE ON A DIET
Bachelorette parties are even trading debauchery for getaways full of juice cleanses, early morning hikes, meditation and yoga.
"I've seen a big increase in workouts involving the entire bridal party," said Sue Fleming, a personal trainer who usually works with brides, but lately has taken on whole bridal parties. On a recent Saturday in the Hamptons, New York, she led a group of bridesmaids through two hours of exercises to help them get wedding-fit.
Bridesmaid Ashley Lagas, 29, said signing up for the grueling workout was a mutual decision between herself and bride-to-be Rachel Lenhoff — one that definitely left them feeling sore for days after.
"We based our weekend around the boot camp, but we also ended up doing yoga by the water the next day," Lagas said, adding that the bachelorette weekend also included organic smoothies and a healthy brunch. "We just wanted to be really active the whole weekend."
FOLLOW US ON FACEBOOK FOR MORE FOX LIFESTYLE NEWS
But the added burden of satisfying such high expectations can be too much for some. Maid of honor Mandy, a 28-year-old medical biller from San Antonio, Texas — who declined to give her last name to avoid family fallout — said her sister has demanded she get a spray tan before her wedding, grow her hair out, and avoid dyeing it anything other than blond.
"I'm pretty sure if I weren't already attempting to get in shape, she'd probably make comments about that too," she said sarcastically. "I guess she wants everyone to look picture-perfect, otherwise they might distract from her looking fabulous."
First published on the New York Post