The Holidays: A Time for Giving - At Work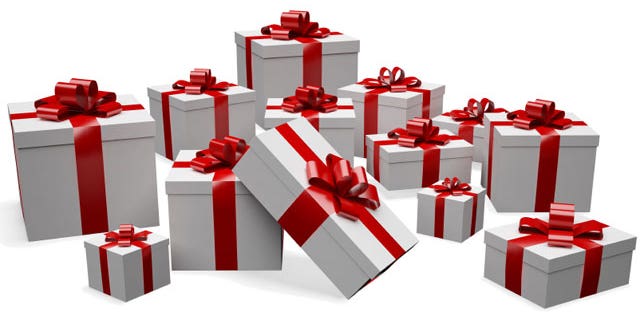 During this season of giving, it's a good time to think about how we can give 'gifts' at work, too! No, I'm not talking about the department's "Secret Santa" – rather, how is it that you provide value to your clients and supervisors?
We talked a little while back about how we can be thankful about what the workplace offers us; are we likewise giving 'gifts' that the receiver truly wants?
Let's think about what we give at the workplace, in ways that benefit us, as well!
Anticipate Needs
Early on in my career, a senior colleague of mine suggested something to me that became much clearer as I moved up in the ranks. He said that I should always think about what the receiver (of whatever work product I was working on) really needed.
If I just do a project within the four corners of the project, I may be missing the opportunity to really make myself stand out – and be a huge help to others.
How can you go the extra mile when…preparing a presentation, getting back to a client, presenting a report? You get the idea. Put yourself in the shoes of the recipient and think about what she would REALLY like to get – not just what she asked for.
In this way, you prepare yourself to take on more responsibility, and show others that you're thinking like the boss.
Be a Team Player
Everyone loves to be part of a cohesive team – you know, one in which everyone has a valued part, the team works toward a common goal, and each respects the strengths and weaknesses of the other! Make sure that *you're* playing "full out" and are holding up your portion – even when others aren't. If you are consistent, others will step up to the plate (or you'll be moved up to another team).
If you are a true team player, it makes you more flexible (you learn to work with a variety of people), seen as ready to work in different settings, and others want you on their 'team'. What better way to get the next plum assignment?
Prevent Problems
The power of being PRO-active in the workplace, instead of RE-active, cannot be overstated. Yes, we must all respond to crisis quickly. But how much more beneficial it is to avoid the crisis in the first place! To the extent you are able to see – and prevent – a future train wreck, your coworkers will thank you for it.
Hold Your Tongue
Sometimes the best gift you can give is NOT to say what you think. Yes, there are times when others drop the ball, make a mistake, or cause some kind of fracaso. Remember that no one loves a whiner, and when you 'keep your own counsel' (don't you love that phrase?), others will appreciate it (and repay the favor when you need it).
Add Value
At the end of the day, every organization – whether a company, a non-profit, or a governmental agency – wants to give benefit to its customers and constituents. How can you better serve the organization? How can you make sure the company meets its goals?
When you figure out what special gifts you *already* bring to the table, and use them to your utmost, those around you will be grateful.
During this spirit of giving, we are taught that what we give comes back to us exponentially. Never is this more true than in the workplace. So let the season of giving begin!
And keep it going all year….
Aurelia Flores is Senior Counsel at a Fortune 500 company and former Fulbright Fellow who graduated from Stanford Law School. Her website, PowerfulLatinas.com, offers stories of success, along with resources and programs focused on Latino empowerment.

Follow us on twitter.com/foxnewslatino
Like us at facebook.com/foxnewslatino