The Daily Spike: The importance of napping, or at least lying down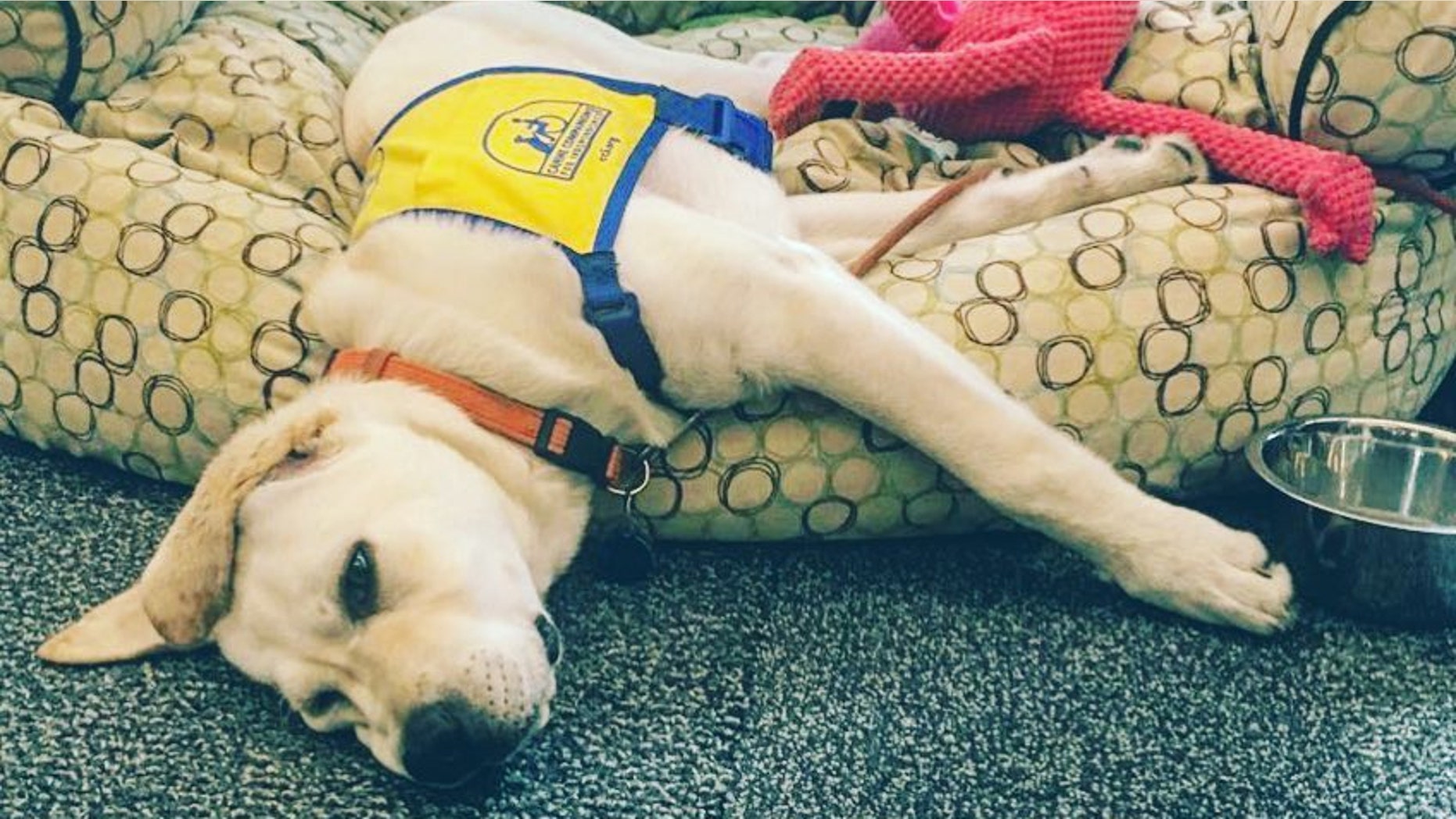 This weeks edition of The Daily Spike, which chronicles one Fox News producer's efforts to help train a Canine Companions dog, is all about Spike learning a very important command.  
Spike is a pretty big fan of naps. Whenever anyone passes by his dog bed in the newsroom, nine times out of 10 he's napping — or at least lying down or draped over his bed like a slinky.
Napping is great, but more importantly, Spike needs to learn how to lie down for long periods of time.
Spike is learning the "Down" command, which is a really important one for a Canine Companions puppy or assistance dog like him to know.
"Down" tells the dog to lie down in an unobtrusive manner.
THE DAILY SPIKE: THE POWER OF A DOG DURING RECOVERY
Right now, Spike will lie down for a short period of time before deciding that there is more fun to be had doing other things, like chasing his tail. So teaching him this command will be a marathon, not a sprint. Every time we work on lying down, I wait a little bit longer before he gets praise.
Canine Companions assistance dogs go everywhere with their partners, from grocery shopping to cross-country plane rides. As Spike gets older, he'll learn to stay lying down in all kinds of settings. He's currently going to our morning editorial meetings here at Fox News, and when we're not having him pose in a chair for Instagram, he's laying at my feet for the 5–10 minute meeting.
THE DAILY SPIKE: WINE, CHEESE, PUPPIES AND A TOW TRUCK
Eventually, he'll be patiently content under the table when I have longer meetings or grab dinner with a two-legged friend. And throughout our journeys together, Spike will learn to lie beneath the seat in front of me on a plane, under the bench on the subway, and on different kinds of surfaces.
I don't know if Spike will be matched with a college student who might need him to lie down through lectures or a child who wants to see a new movie. But I do know he'll be prepared, and he'll be the happiest "down" dog ever.
FOLLOW US ON FACEBOOK FOR MORE FOX LIFESTYLE NEWS
For more information, visit Canine Companions for Independence.