The Daily Spike: Assistance dogs are paired with humans at 'Diamonds in the Ruff'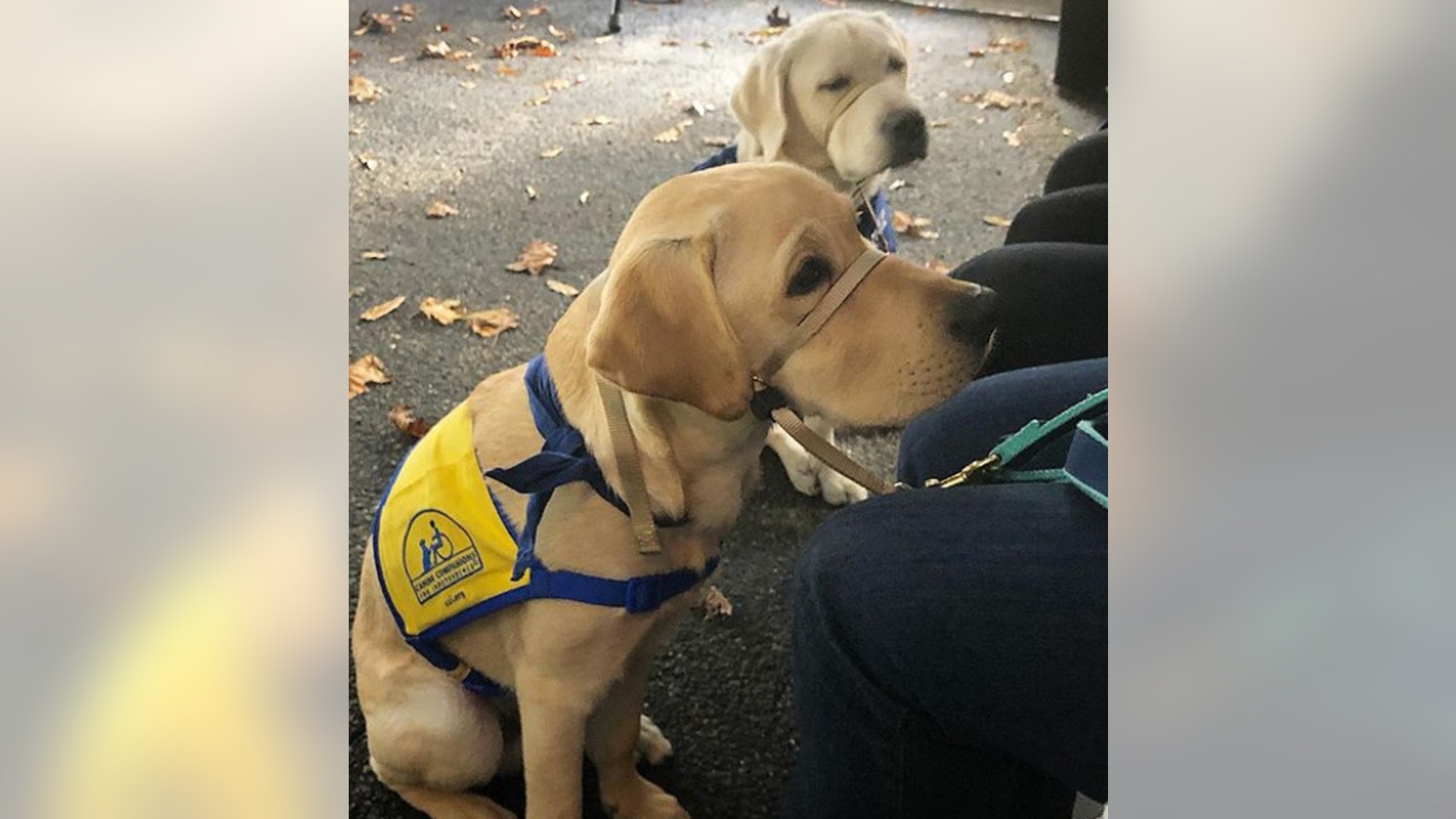 Have you ever held a 9-week-old puppy? I highly recommend it.
Last Saturday, Dana Perino got to hold two very cute 9-week-old puppies.
Dana, Spike and I went to "Diamonds in the Ruff," a special event celebrating the 10th anniversary of the Canine Companions for Independence Northeast Region's Miller Family Campus. The Miller Family Campus is one of six facilities around the country where advanced training turn the pups into full-fledged assistance dogs. It's also where they train their human companions on how to work with their new canine partner.
THE JOYS AND PAINS OF RAISING A CANINE COMPANION
Five of the six campuses have accessible dorm rooms where the graduates stay with their new dogs, free of charge, for two weeks of team training. And at the end of the training, there is a graduation ceremony where the puppy-raiser hands over the assistance dog's leash to its human — a very, very special event for everyone involved.
In the 10 years of its existence, the Miller Family campus has proudly matched more than 500 dogs and placed about 1,200 puppies in volunteers' homes. So there was a lot to celebrate, and the event was a huge success.
Perino, host of "The Daily Briefing" and co-host of "The Five," has been incredibly supportive of my efforts with Spike and Canine Companions for Independence. She not only participated in the festivities but gave an incredible speech that touched on our experiences at Fox with Spike. And talk about a small world — one of the puppy-raisers at the event, Heidi Cummings, was the FBI agent that did Dana's background check before she took her White House job as George W. Bush's Press Secretary!
John Miller, President of the Board for CCI and a major benefactor of the campus, talked about how rewarding it is to see the impact these dogs have on people's lives. Paige Mazzoni, CEO of the organization, further spoke about expanding the sixth facility in Ohio to train more dogs and house graduates as CCI continues to grow and expand.
A lot of the day focused on the work that the organization is doing to provide assistance dogs for veterans with PTSD. Paige described the success of the early pilot programs with the Veteran's Administration and detailed the significant expansions moving forward. But a couple of veteran recipients of assistance dogs really stole the show.
HOW TO TELL IF YOUR DOG IS REALLY SICK
Mike Carrasquillo, injured in Afghanistan, talked about how his dog Ojai has changed his life and pulled him out of some very dark places. He did this while entertaining us with a comedy routine that pulled from his experiences on the battlefield, as well as his two-year recovery at Walter Reed and his ongoing struggle with physical and psychological disabilities.
Marine Sergeant Caleb Davisson received his assistance dog Velvet a year ago as part of a pilot program with the Department of Veterans Affairs, but he and Velvet never had an official "graduation" ceremony. So Velvet's puppy-raiser, Susan Manuel, handed over the leash to Caleb in sort-of a mini ceremony, and Dana got to present them both with their graduation certificates. There were tears of joy all around.
And even more good news — Emma Phillips and Lisa Jennings of PenFed Credit Union brought not only the puppies they're raising, but also a significant donation from PenFed to help Canine Companions expand their veterans program.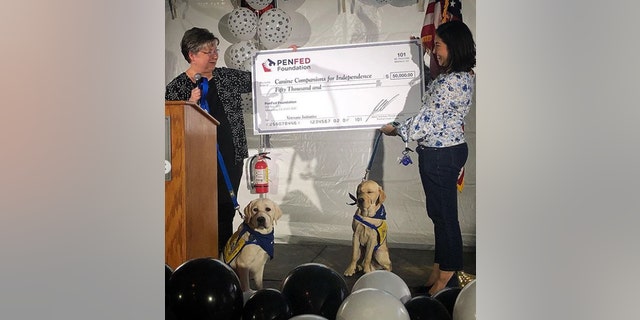 FOLLOW US ON FACEBOOK FOR MORE FOX LIFESTYLE NEWS
One theme that Dana, Paige and others hit upon is the emotion of the day: While it's sad for the puppy-raisers to say goodbye to their pups — and hand over the leashes — it's touching knowing the pups will soon be changing someone's life.
I agree with my fellow puppy-raiser Jackie Cheshire, who said it best: We all get more out of it than we put in.
To learn more about Canine Companions for Independence, visit CCI.org.