The Daily Spike: 'A tired, happy dog makes for a happy owner'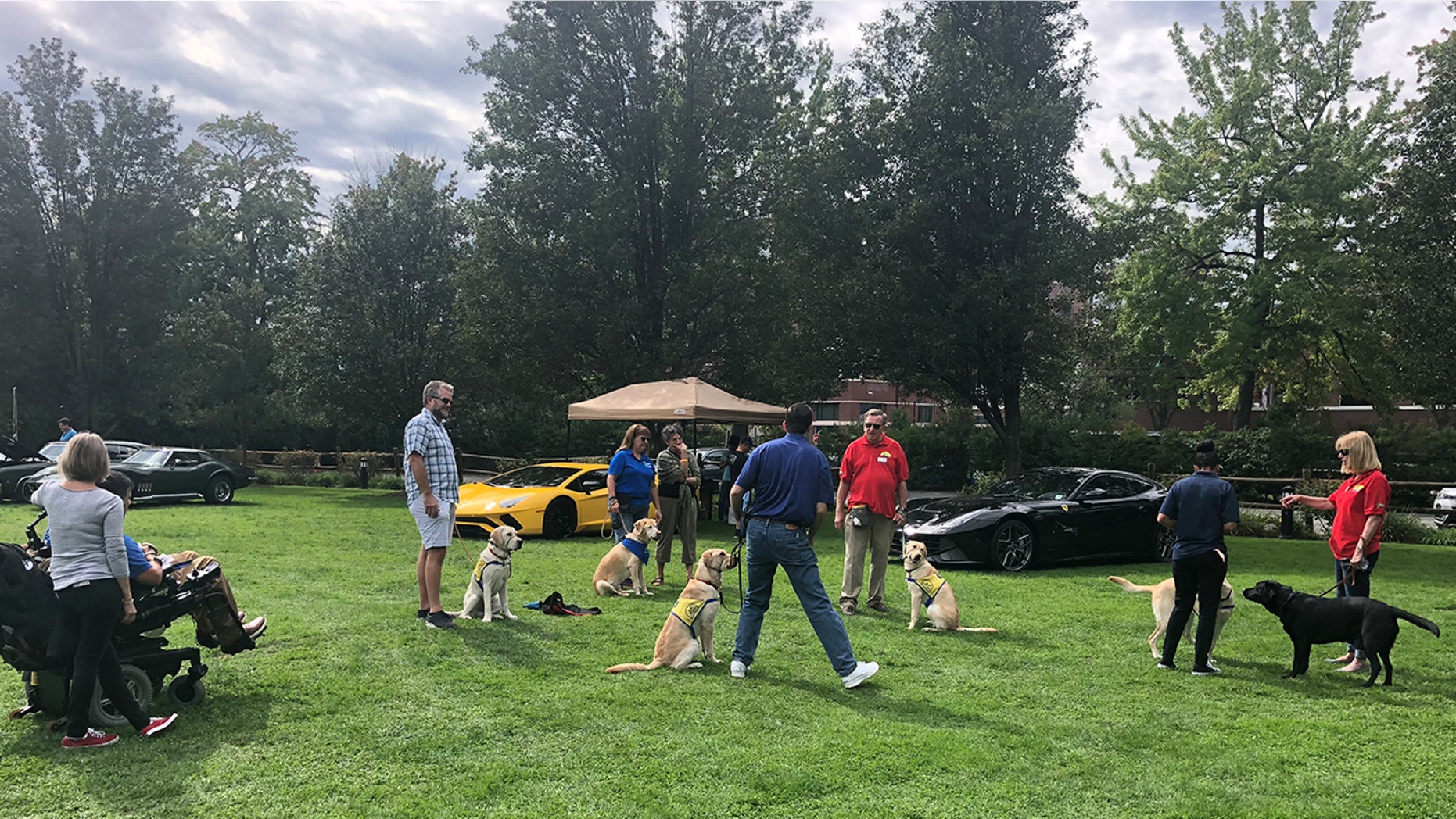 Spike and I went to an amazing event at Englewood Field Club in New Jersey last weekend. The club held their first ever auto show and all proceeds went to Spike's organization, Canine Companions for Independence.
The pups - and humans - got to check out some very cool cars. There was an incredible display of new European supercars from makers like Lamborghini, Ferrari, Porche and BMW. Plus a number of vintage American cars, classic Stingrays, Corvairs, Mustangs, a WWII-era Jeep, and even a Pierce-Arrow from the 1920s.
GOLDEN RETRIEVER PUPPY LOCKED OUT OF HOUSE RINGS DOORBELL TO GET BACK INSIDE
We held an impromptu training session amidst the cars, having the puppies "sit" or "down" as we tossed a tennis ball between us. It's great training for the pups to learn to ignore the tennis balls - or anything else that humans are throwing through the air. It's hard! But all the dogs did it.
The highlight of the day, though, was actually a surprise for one of our very dedicated volunteer puppy raisers, Caryl Swain. Ivan Arguello, the president of the Field Club and a volunteer puppy raiser, got the city of Englewood and the state of New Jersey to officially honor Caryl for all her work on behalf of Canine Companions for Independence.
Caryl is raising Spike's brother (named Swain, after her) who is the 10th dog that she's raised for Canine Companions. In addition to financially supporting all those dogs, as all volunteer puppy raisers do, she has also raised thousands of dollars for Canine Companions.
Just as importantly, she is a tireless advocate for accessibility issues for people with service dogs. She's done countless demonstrations and talks, educating the public about service dogs.
And maybe most importantly, she has inspired countless people, young and old, to get involved with Canine Companions for Independence.  She's truly an inspiration.
FOLLOW US ON FACEBOOK FOR MORE FOX LIFESTYLE NEWS
Spike and I didn't leave with a new car, but Spike did leave a lot of hair in our rental. He was exhausted from a full day of travel, training and playing with his friends, and slept the whole ride home. And a tired, happy dog makes for a happy owner.