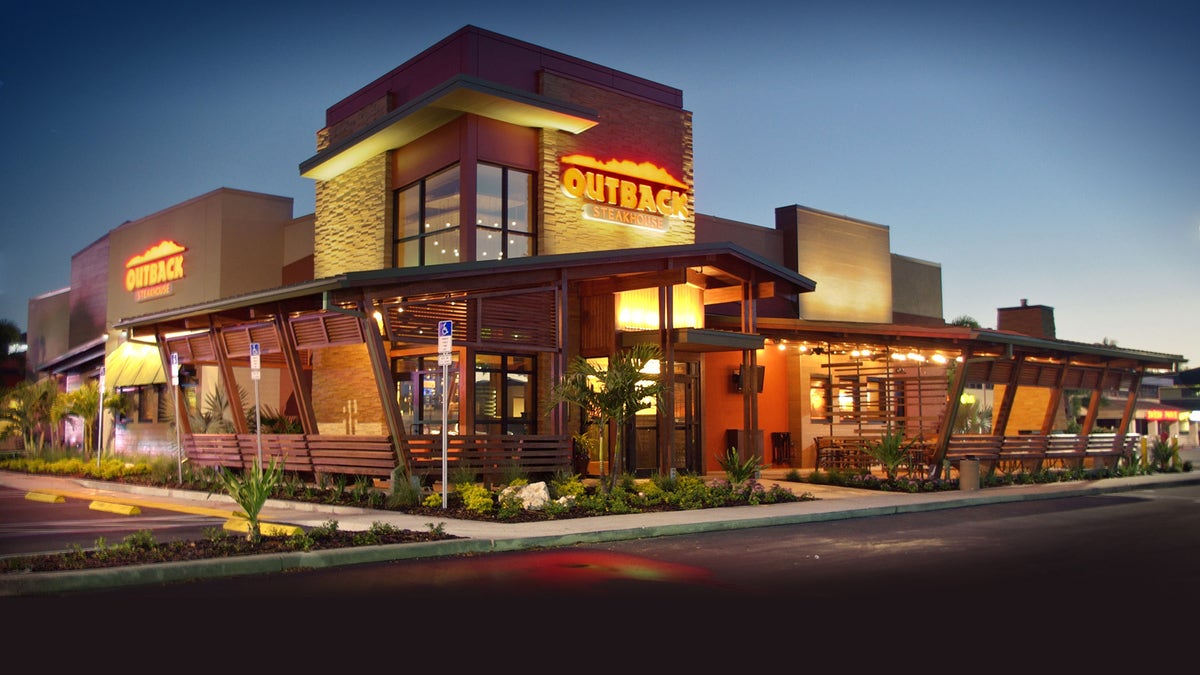 When it comes to dining at Outback Steakhouse, plan to bypass the cheese-fries-topped Bloomin' Onion and head straight for the healthier options. Grilled is mainly the name of this game, and the restaurant boasts many entrees for fewer than 600 calories — some for even less than 500. Lighten these up even more by requesting steak sans butter or a baked potato without sour cream, Hope Warshaw, MMSc, RD, CDE, a diabetes educator and author of Eat Out, Eat Well, told Fox News. See what health nuts across the country order at Outback for healthier ordering inspiration.
1. Victoria's Filet Mignon, 6 Oz
This 6-ounce portion is a highlight of Outback's under-600-calorie menu. On its own, it provides 36 grams of satiating protein for just 218 calories. "While red meat has gotten a bad reputation in the past, this classic Outback menu item is actually quite nutritious," Chrissy Carroll, MPH, RD, a dietitian and triathlon coach at Snacking in Sneakers in Shrewsbury, Massachusetts, told Fox News. "The key is choosing the portion-controlled six-ounce version, rather than the larger 10-ounce counterpart." This keeps the calories and saturated fat in check — landing the dish with less total and saturated fat than the menu's sirloins, ribeye and strip steaks. The filet mignon comes with a baked potato and a side, so choose the grilled asparagus for additional fiber, vitamins, and minerals, Carroll suggested.
2. Grilled Chicken on the Barbie
Go all the way grilled by pairing this entrée with a side of grilled asparagus in lieu of the mixed veggies it comes with. Add a house salad with the dressing on the side, too. "This is a huge portion of chicken at eight ounces, and the grand total for the meal clocks in at less than 500 calories with a whopping 60-plus grams of protein," Lauren Harris-Pincus, MS, RDN, owner of Nutrition Starring YOU in Green Brook, New Jersey, told Fox News. Although the BBQ sauce that the chicken is topped with is likely packed with sugar, Natalie Rizzo, MS, RD, owner of Nutrition à la Natalie in New York City, told Fox News it isn't so bad when paired with lean chicken and veggies.
3. Perfectly Grilled Salmon, 7 Oz
Choose this dish from the sea for a dose of heart-healthy omega-3 fatty acids. "Omega-3 fatty acids may play a role in reducing triglyceride levels and lowering risk of coronary heart disease," Carroll said. "So feasting on some fish each week is a wise choice." The salmon is plated with seasonal mixed veggies; tack on a side Caesar or house salad (with just a drizzle of dressing) for a meal at just over 600 calories. And do like Harris-Pincus: Lighten things up by asking for the salmon without butter for a calorie savings that allows for a piece of warm bread to start off the meal.
4. The Outbacker Burger
While this pick isn't as low in calories as some of Outback's other entrée options, it's your best bet if you want a sandwich — and at 623 calories, it's a much better option than the the 1,000-plus-calorie Bloomin' Burger. It offers 37 grams of fueling protein, about three-fourths of the daily value. Skip the optional cheese, and pair it with a house salad with just a drizzle of dressing for some water-filled veggies that will help keep you full.
5. Sirloin and Grilled Shrimp on the Barbie
Here's your meal if you're wanting a little of this and a little of that. The grilled steak-and-shrimp combo comes with a potato, but swap that for a house salad with just a drizzle of dressing — and request either the grilled asparagus or steamed broccoli for a meal that clocks in at less than 600 calories. The dish is higher in sodium, so drink plenty of water and aim to eat fresh foods the rest of the day.
Amy Gorin is freelance writer and owner of Amy Gorin Nutrition in Jersey City, NJ. Connect with her on Facebook, Instagram, Twitter, and Pinterest.