Texas veterinarian warns wild mushrooms after heavy rains can be toxic for pets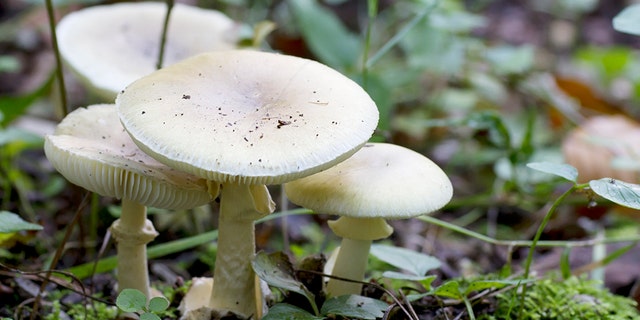 Heads up, Texas pet owners: A veterinarian in the state warns that wild mushrooms could present dangers to dogs, specifically after prolonged, rainy weather.
Hunter Bowen, a veterinarian with the Firehouse Animal Health Center in Round Rock, Texas, a city near Austin, told KXAN-News he's seen a lot of dogs and cats alike coming to the clinic with upset stomachs and other symptoms of wild mushroom poisoning.
Wild mushrooms, which can be both toxic and nontoxic, typically grow after a period of rainy weather, which Round Rock has experienced in recent days, according to the news station. The perfect mixture of "moisture, shade or cloudy weather, and rich, organic material in the soil" causes the mushrooms to appear after rain, according to Scotts, a lawn care company.
PHOTOS: STRANDED PETS GET RESCUED FROM RISING FLORENCE FLOODWATERS IN NORTH CAROLINA
While not all mushrooms are toxic, the "ones that are toxic are very toxic," the American Kennel Club said, adding that dogs, specifically, eat mushrooms because they "explore the world by scent and taste, and the texture of a mushroom might also be intriguing to an inquisitive canine."
Certain types of toxic mushrooms — such as Amanita phalloides and Inocybe spp — have a "fishy odor," a scent that may also attract canines.
Symptoms that indicate your dog may have eaten a toxic, wild mushroom include: vomiting, diarrhea, salivation, weakness, and abdominal pain or seizures, among other signs, according to the American Kennel Club, which also noted that different species of mushroom can cause different symptoms to appear.
Some species of mushroom can cause liver failure and death, while others can result in neurological issues.
VIRGINIA EMERGENCY OFFICIALS RESCUE DOG TRAPPED IN 35-FOOT WELL
Mushrooms that can be deadly to dogs, according to the American Kennel Club, include:
Amanita phalloides, also known as the "death cap" mushroom
Galerina marginata, or the "deadly Galerina" or "Galerina autumnalis"
Amanita gemmata, less formally known as the  "jeweled deathcap"
Amanita muscaria, sometimes call the "fly agaric" or "Deadly Agaric"
Gyromitra spp., or "false morel"
Inocybe spp. and Clitocybe dealbata mushrooms
It's important to note Bowen also told KXAN-News that the runoff from the recent rains can get "into streams and all the places that people like to take their dogs to play in the water in Austin." Bowen added that runoff "can carry things from livestock pastures and just land that's not ever controlled or treated for parasites."
In other words, a pup's upset stomach may be caused by something other than a toxic mushroom.
FOLLOW US ON FACEBOOK FOR MORE FOX LIFESTYLE NEWS
"It doesn't necessarily crop up while it's raining… It's like today, the first nice day after it's raining, that we'll see pets come in with upset stomachs," he added.