Sports Illustrated swimsuit model breastfeeds baby while walking down the runway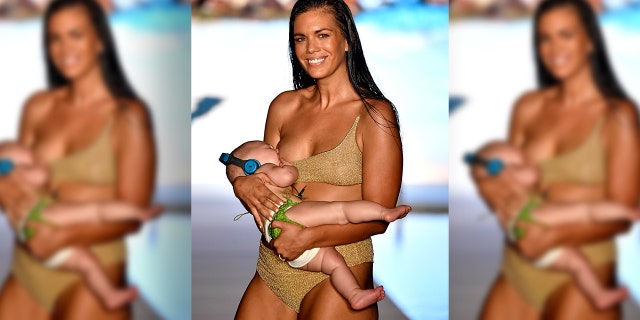 NEWYou can now listen to Fox News articles!
A model at Miami Swim Week debuted one of her newer, and most precious, "accessories" on the runway: Her newborn baby.
Mara Martin, dressed in a gold one-shoulder bikini, hit the runway as part of the 2018 Sports Illustrated Swim Search show on Sunday, while simultanously breastfeeding her five-month-old daughter Aria.
Martin was chosen as just one of 16 finalists for the fashion show, held at the W Hotel in South Beach, The Sun reports.
INVENTOR SAYS THIS IS THE ONE TRUE TEST OF A REAL BIKINI
Before the show, Martin posted a message to Instagram expressing how excited she was to be participating.
"I'm so so so thankful for the entire team at Sports Illustrated for picking me!" she wrote alongside a photo of herself and Aria.
Following the show, Martin posted another message to say she was humbled by the coverage of her runway moment.
"I can't believe I am waking up to headlines with me and my daughter in them for doing something I do every day," she wrote. "It is truly so humbling and unreal to say the least. I'm so grateful to be able to share this message and hopefully normalize breastfeeding and also show others that women CAN DO IT ALL!"
Sports Illustrated also posted a video of Martin walking the runway with Aria, which elicited cheers from the audience.
FOLLOW US ON FACEBOOK FOR MORE FOX LIFESTYLE NEWS
Sunday night's 2018 Sports Illustrated Swim Search also featured an appearance from Paralympian Brenna Huckaby, who walked the runway with her prosthetic leg.
"It was an honor and such a HUGE privilege to open the show in my first runway eveerrrr," Huckaby wrote on Instagram. "Always step out of your comfort zone because you NEVER know where it will lead you!"