Some of Cuba's most revered institutions are going to the dogs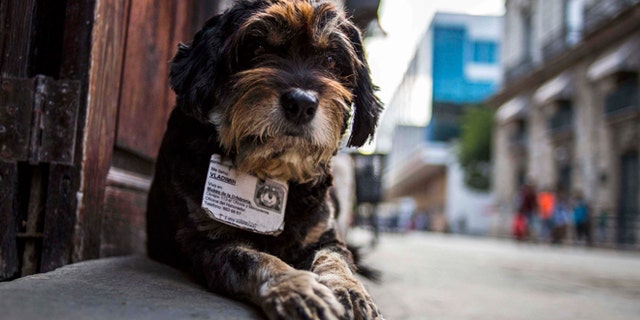 HAVANA (AP) – Old Havana's Museum of Metalwork is home to soaring colonial archways, floors of gleaming artworks and five of the world's luckiest street dogs.
In the heat of the day, Vladimir, Canela, Aparicio, León and Carinoso sprawl in the grand entrance of the centuries-old stone building. At night, the animals patrol the streets with local police or sleep under the museum's grand stairway. Each wears a collar with a tattered card bearing its name, photo and the words "I live in the Museum of Metalwork."
More than a dozen state institutions ranging from Cuba's Central Bank to a public toilet have taken street dogs under their wings in recent years, assigning them official IDs and housing and granting them year-round medical care and protection from the city dogcatcher, animal protection officials say.
"I don't like dogs but I've really developed a soft spot in my heart for them," said Yarisbel Pérez, a guard at a historic building overlooking Old Havana's Plaza Vieja, where two sets of guards share custody of P9 and Nina, the former named after a city bus line.
Despite the trappings of state protection, the roughly two dozen former street dogs enjoy, at most, a quasi-official status, conveyed by the frequently thin pretext that they are working security. Cuban law banning animals from workplaces contains an exemption for guard dogs and this legal cover for the ex-strays was bolstered when a dog at a government office in eastern Havana awakened a guard one night by barking when she heard trying to remove air conditioners from the windows, said Nora Garcia, president of the Cuban Association for the Protection of Plants and Animals.
"There was a public ceremony in which the dog received an award for saving the air conditioners," Garcia told The Associated Press.
The adoption of street dogs by some of Havana's most illustrious institutions is driven mostly, however, by the guards' love of animals and their desire for company on long shifts in a city with little crime.
Dogs in Old Havana benefit from the presence of dozens of state restaurants that donate leftovers to the animals, some of which have grown nearly obese. The dogs with Pérez enjoyed an enormous dinner of half-eaten pork chops and leftover chicken and rice served on grease-soaked paper plates from a nearby restaurant.
"They don't eat bones," said Victoria Pacheco, a guard in the metalwork museum. "They eat cold cuts, mincemeat, hotdogs and liver."
The animal protection society maintains a list of 21 dogs living in state institutions, including a Communist Party gas station, offices of the Cuban Journalists' Union and a mechanical workshop of the Ministry of Public Health.
"They stay here and nothing happens to them," said Dalia García, the caretaker of a public bathroom in Havana's Vedado neighborhood that's home to two former street dogs. "Everyone takes care of them, no one hits them. They don't bark and they don't bite anyone."
Other dogs haven't been so lucky, including a group snatched by the dogcatcher from Havana's University of Arts while their student protectors were home on vacation, Garcia said.
"They're official for us but the state doesn't always look so kindly on them," she said. "When they come and say there can't be any dogs here, they have to go."
Similarly sad fates await street dogs who aren't chosen for special treatment by state workers, including some of the dogs who wander, matted and skinny, through groups of quasi-official dogs on the streets of Old Havana.
"Sometimes we feel bad and we give them something to eat," Pérez said. "But if we start taking care of all of them, it would get to be a zoo around here."
Like us on Facebook
Follow us on Twitter & Instagram