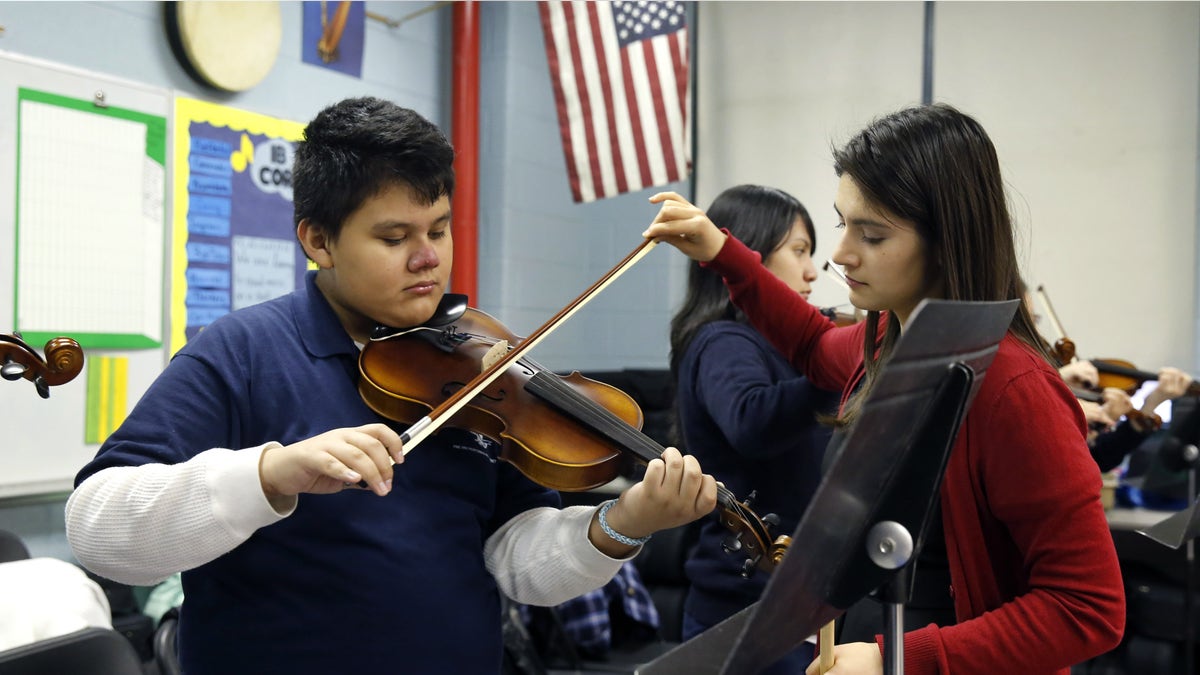 CHICAGO (AP) – Jose Torres smiles as he thinks about how his 12-year-old daughter has embraced learning the same mariachi music he plays at home as part of a new Chicago Public Schools program that teaches the Mexican songs, linking the family's culture with the classroom.
"She's asking questions about her family, her background," Torres said, sitting outside Alexa's music classroom at Richard Edwards Elementary School, a largely Hispanic arts school on Chicago's South Side. It's one of five Chicago schools with 1,100 students in the third through seventh grades that the nonprofit Mariachi Heritage Foundation debuted in this fall.
Chicago joins dozens of schools districts nationwide in cities like Las Vegas, San Antonio and Tucson, Arizona, that teach students how to sing and play mariachi music. It's a way to connect schools and parents from Hispanic communities, foundation president Cesar Maldonado said.
A traditional Mexican music, mariachi often is performed by groups of musicians playing stringed instruments and trumpets and wearing brightly colored costumes. The songs are both ballads and fast tempo reflecting different, often rural regions of Mexico.
"It gives parents the opportunity to have a topic they can speak on," Maldonado said. "Let's use that as a platform to bring parents into the conversation of everyday academic life."
That was evident to music teacher Maria Pulido when the line was out her classroom door at this year's parent-teacher conferences.
"Last year, I never had any parents come talk to me," she said.
Pulido teaches mariachi students basic music skills on violins along with how to play Mexican folk songs. The program eventually will incorporate mariachi singing instruction.
"That's something the parents can say 'Wow, I know that song. I used to sing that song when I was young,'" she said.
It's something Alexa Torres, 12, said she appreciates about mariachi music now too.
"I find it more interesting because I understand now what goes into it," she said.
But starting a mariachi program in a school isn't without challenges.
Marcia Neel, who helps organize mariachi programs in school districts around the country through her company Music Education Consultants, Inc., said one issue is earning the same respect for mariachi music as orchestra or band programs.
"It should be offered with the same amount of weight," she said. "It just needs to be recognized as the legitimate art form that it really is. The key was to take mariachi from being an out of school thing and put it into the school day."
Finances also are a concern, said Maldonado, who started this first year in Chicago using $300,000 in private and corporate donations. He bought 450 violins with the money. In January he hopes to buy more mariachi instruments, like trumpets and guitarrons, or bass guitars, and expand to seven more schools. Nearly 40 Chicago schools are on a waiting list.
"Until we get it to every school in the district that wants it we won't stop," he said.