Russian curler who fell at Olympics 'looks like Angelina Jolie at 21'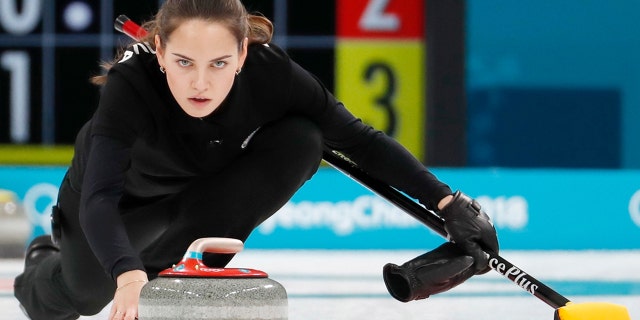 Though curling may not historically be the buzziest event in the Winter Olympics, one Russian athlete is bringing a whole lot of spotlight to the sport.
Making her Olympic debut in mixed doubles curling on Feb. 8, Anastasia Bryzgalova has had the Internet buzzing over her looks, despite taking a rare tumble during one of her latest curling matches. Ever since stepping out onto the ice in Gangneung, South Korea, the 25-year-old athlete has been drawing comparisons to Angelina Jolie and Megan Fox due to her dark hair, light eyes and movie-star looks.
SHAUN WHITE SHOCKS CHEF BY SHOWING UP TO EAT $920 NAMESAKE BURGER
"The Russian curling mixed doubles team is led by Anastasia Bryzgalova, who looks like Angelina Jolie at 21 if she ever picked up a broom," one admirer gushed.
"Unable to win at #curling by #doping, #Russia has decided to distract the opposition by sending #supermodels," another quipped.
"Watching the curling with Russia's Anastasia Bryzgalova. I've no idea whats going on, but hey," another user chimed in.
TEAM USA'S PINK HAIR CRAZE IS BACK
According to her Olympic profile, Bryzgalova holds a master's degree in Physical Education, Sport, and got involved with curling in 2009 following an invitation to join a curling club at an ice sports complex.
Admirers shouldn't get their hopes up too quickly, however, as Bryzgalova tied the knot with her curling partner Alexander Krushelnitskiy in June 2017, according to her Instagram.
FOLLOW US ON FACEBOOK FOR MORE FOX LIFESTYLE NEWS
Competing for the bronze medal on Feb. 13, the couple defeated Norway 8-4 to take the prize, even though Bryzgalova took a staggering tumble on the ice.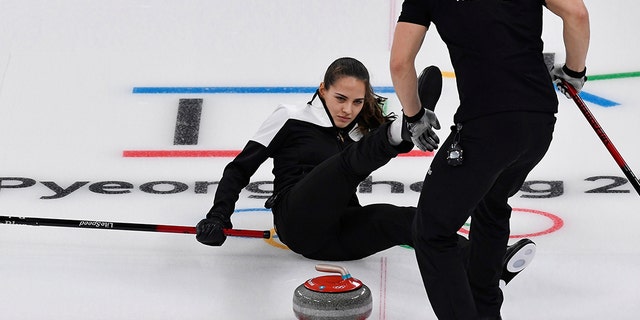 "It is very rare for a curler to fall in professional curling, and the spill drew gasps from the stunned crowd," ESPN reports, but that didn't stop a "tearful" Bryzgalova from later celebrating their victory.
The outlet notes that the pair's victory marks the first Olympic medal for mixed doubles curling for Russia, as the game — a quicker spin on typical single-gender curling — makes its Olympic debut at Pyeongchang.