Romantic greeting cards blasted as sexist: 'When are we going to evolve?'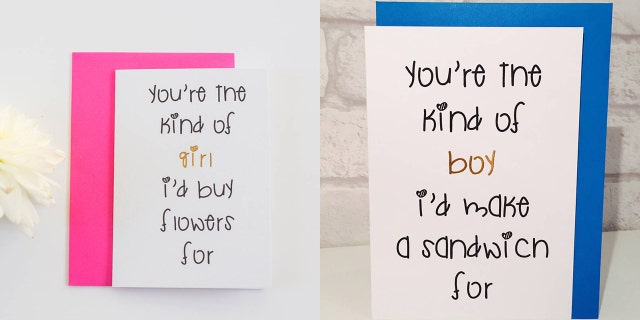 Critics say a pair of romantic greeting cards are sending the wrong message by enforcing problematic gender stereotypes after a photo of the notecards went viral for all the wrong reasons.
Social media commenters are largely lamenting the stationery, which features cards reading "You're the kind of girl I'd by flowers for" with a pink envelope, coupled with "You're the kind of boy I'd make a sandwich for" with a blue envelope — the text inscribed in a childlike font, as well.
On April 5, Natasha Hodgson took to Twitter to share a picture of the cards, in a post which has been liked over 20,000 times and sparked more than 250 comments.
METS FAN HITS IT OUT OF THE PARK WITH 'SINGLE' PITCH
"Ahh yes the two sides of heterosexuality, commerce and toil," the woman quipped of the products, which appear to be positioned on a store shelf.
Though it remains unclear what store Hodgson spotted the notes at, they have since been revealed to be sold by Lola & Gilbert Ltd. through NotOnTheHighStreet, a London-based gift shop where they are retail for $2.55 apiece, The Sun reports.
Some Twitters users, meanwhile, proclaimed that the "sexist" products seemed more attuned to the values of a time gone by.
"Wow. Is it still 1955?" one cynic quipped.
"Gosh! When are we going to evolve?" another asked.
FOLLOW US ON FACEBOOK FOR MORE FOX LIFESTYLE NEWS
"Just no!! My husband cooks, and I'll buy my own darn flowers if I want to. Also-that font is a crime against typography!" one user opined.
Other commenters, meanwhile, offered examples of everyday retail products that supposedly thrust gender stereotypes onto children at a young age, from pink and blue bottles to books.
Some Twitter commenters, nevertheless, didn't find the cards to be quite so troubling.
"When are people going to stop moaning over every little thing in life? Boo hoo, someone done something you don't like," a detractor defended. "Guess what, you can just choose to ignore it and move on instead of crying over everything that doesn't fit in with your way of thinking."
CLICK HERE TO GET THE FOX NEWS APP
Jokesters, too, couldn't resist poking fun at the outcry in larger sense.
"Can someone give me sandwiches and some flowers or am I only allowed one choice?" one wondered.
"Where is the 'you're the kind of person I'd pick up tacos for' [card]?" another exclaimed.
"Who thought these cards would be a good idea lol" another skeptic moaned.