Puerto Rico monitoring stranded whales trip back to the depths of the Atlantic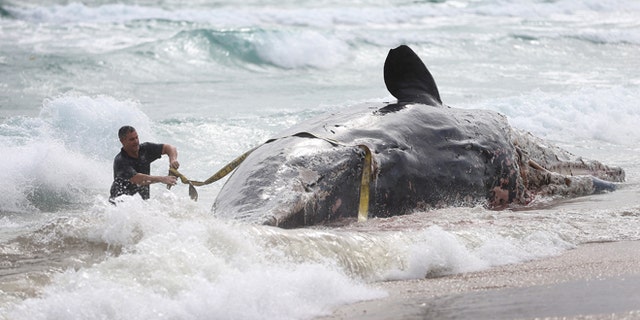 NEWYou can now listen to Fox News articles!
SAN JUAN, Puerto Rico (AP) – Authorities in Puerto Rico are monitoring two dense-beaked whales that got free and are swimming off the U.S. territory's northwest coast after they became stranded on the island along with one that died.
Natural Resources Secretary Carmen Guerrero says it is rare to see Blainville's beaked whales strand themselves on the island.
The third whale was an 8-foot (2.4-meter) calf that stranded itself Friday in Aguadilla. Guerrero says biologists transported it to a nearby zoo, but there was no way to artificially feed that type of calf and the U.S. National Oceanic and Atmospheric Administration ordered it euthanized.
Follow us on twitter.com/foxnewslatino
Like us at facebook.com/foxnewslatino