Proposal for Spanish-language street signs in heavily Latino PA city met with resistance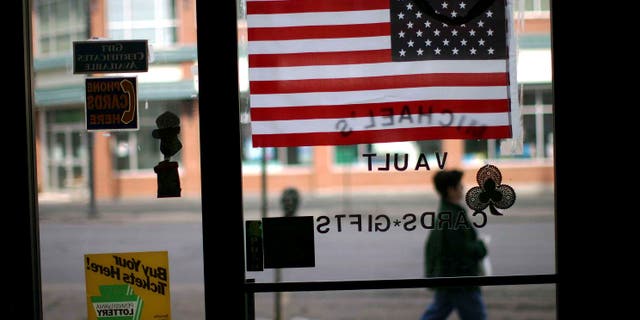 In recent years, Seventh Street in downtown Allentown has seen a major transformation.
Taquerias, bodegas and other small businesses have cropped up along one of the main commercial stretches Pennsylvania's third largest city, giving the once-stolidly white, working class area a much more Hispanic feel.
The cultural shift in Allentown has prompted one city council member, Julio Guridy, to put a resolution before the city council to put Spanish-language street signs up and down Seventh Street and renaming the street "Calle Siete" – an homage to Miami's Calle Ocho – as a way to honor the town's growing Latino community.
While the proposal by Guridy – one of two Hispanic members of Allentown's City Council – was co-sponsored by three of his fellow council members, the legislation has faced stiff opposition from a number of business owners on Seventh Street itself.
"How are these signs going to help anybody?" John Rosario, owner of B&R Enterprises, an insurance agency in the heart of the Seventh Street district, asked The Morning Call. "Street signs in Spanish, English or German aren't going to make a difference in this community. That's not what we need."
Peter Lewnes, the street's manager and someone who has overseen the revitalization of the commercial stretch for more than a decade, added that the Spanish-language signs would discriminate against other minority-owned businesses like the Korean-owned shops and Ethiopian, Jamaican, Chinese and Indian restaurants.
"The issue is not celebrating the Hispanic community's contribution to Seventh Street," Lewnes said. "Without them Seventh Street wouldn't be what it is today, their contribution has been so significant. But we feel there are other ways of doing this that are more inclusive of the other nationalities on the street."
For his part, Guridy says there would be just a stripe reading "Calle Siete" printed above or below "Seventh Street" and that the renaming would send a positive message to Allentown's Hispanic community, which makes up 49.2 percent of the city's total population, according to U.S. Census data.
Allentown was in the spotlight back in 2011 when stories about the growing Latino population appeared in newspapers and magazines from USA Today to The Atlantic, and this year Hillary Clinton's presidential campaign has focused their Hispanic outreach on Allentown as it hopes to win the key battleground state come Election Day.
Guridy says that with the burgeoning Latino population there needs to be more streets and buildings. Currently one of Allentown's elementary schools is named for Luis A. Ramos, a former state Board of Education member who was an advocate for Allentown schools, but there are no parks or streets with Latino names.
"It sends a poor message to a city that has a majority of Hispanics," he said.