Pope may chew coca leaves to fend off altitude sickness during Bolivia trip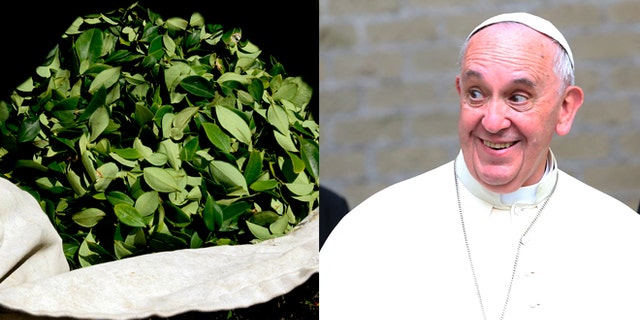 NEWYou can now listen to Fox News articles!
VATICAN CITY (AP) – The Vatican isn't ruling out that Pope Francis might chew coca leaves — or at least sip tea made from them — to fend off altitude sickness when he arrives in Bolivia next week.
Francis embarks on a South American tour Sunday that will take him to Ecuador, Bolivia and Paraguay. He is due to land Wednesday at La Paz airport, 13,000 feet above sea level.
Bolivia's Culture Minister Marko Machicao told local media that Francis had asked to chew coca leaves upon arrival. Coca is legal in Bolivia and is considered a mild stimulant similar to coffee, but is banned by most nations because it is the raw material for cocaine.
Vatican spokesman the Rev. Federico Lombardi told reporters Tuesday that he didn't know what the pope would do and had no confirmation that he might chew the coca leaf. He noted, though, that Francis is a huge fan of mate, the typical tea that Argentines sip throughout the day, and that coca leaves can be brewed into a tea.
"The pope will do what he thinks is the right thing to do," Lombardi said. "I gather there are popular uses to respond to altitude sickness, and some drink a tea or chew the leaves. What will the pope do? We'll have to see."
Francis, the first Latin American pope, is very familiar with and sympathetic to the region's indigenous cultures, having ministered to both Bolivian and Paraguayan immigrants to Argentina who often live in Buenos Aires' shantytowns.
Like us on Facebook
Follow us on Twitter & Instagram