Pope Francis pens personal letter to Venezuelan president about crisis there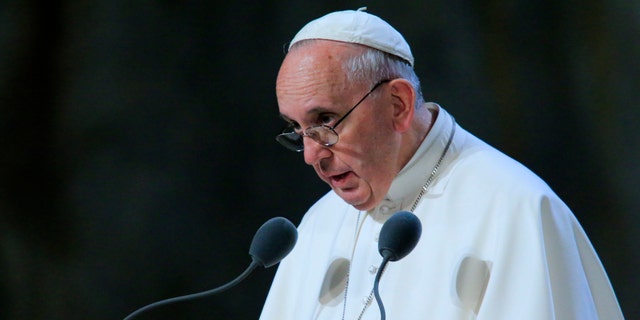 NEWYou can now listen to Fox News articles!
Pope Francis has written a letter to Venezuelan President Nicolás Maduro expressing his concern over the dire economic and humanitarian situation there affecting millions of people in the country.
Papal spokesman Federico Lombardi confirmed a letter had been sent but did not provide details about its contents, the Buenos Aires Herald reported.
"I can say that the pope did write a personal letter to President Maduro concerning the situation in the country," he said Saturday.
He added that "the seriousness of the situation" became clear to Pope Francis because of a statement by Monsignor Aldo Giordano, the Vatican's envoy to Venezuela.
"The seriousness of the situation is clearly shown in the recent statement by the bishops on April 27, when the Nuncio Monsignor Giordano very clearly spoke out in favor of dialogue sponsored by the pope," Lombardi said.
The pontiff's missive comes a few weeks after the Vatican said it was willing to facilitate talks between the Venezuelan government and the opposition. Maduro has indicated he would accept such talks, but the position of the various groups that constitute the opposition remains unclear.
On Easter Sunday, the pope dedicated a passage to Venezuela during the Urbi et Orbi Blessing.
"With the weapons of love, God has defeated selfishness and death," the pope said. "His son Jesus is the door of mercy wide open to all. May his Easter message be felt ever more powerfully by the beloved people of Venezuela in the difficult conditions which they are experiencing, and by those responsible for the country's future, that everyone may work for the common good, seeking spaces of dialogue and cooperation with all."
He added, "May efforts be made everywhere to promote the culture of counter, justice and reciprocal respect, which alone can guarantee the spiritual and material welfare of all people."
Venezuela's oil-dependent economy shrank 5.7 percent last year, shortages of basic goods deepened even as prices soared. The government has instituted rolling power blackouts, and state employees are working only two days a week to conserve electricity.
Venezuela's organization of Roman Catholic bishops has periodically criticized Maduro's socialist government.
The Associated Press contributed to this report.
Like us on Facebook
Follow us on Twitter & Instagram