Pope Francis, Official Rock Star? Catholic Leader Graces Cover Of Rolling Stone Magazine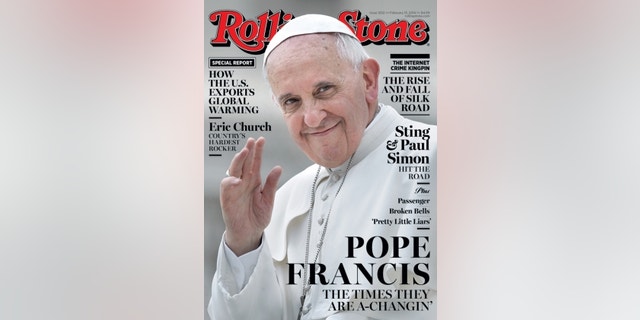 Joining the ranks of a topless Janet Jackson, scantily clad Red Hot Chili Peppers, a totally nude John Lennon and a surprisingly tame Lady Gaga, Pope Francis has made the cover of this month's Rolling Stone magazine.
The leader of the Roman Catholic Church, with more than one billion followers, is the first pontiff to grace the controversial magazine's front cover, where Pope Francis is featured in a typical pose – smiling and waving to a crowd above the cover line from the title of Bob Dylan's song "The times they are a-changin.'"
The cover is accompanied by an extensive article about the new pope's self-deprecating humor – "May God forgive you for what you've done," he told the papal conclave after they elected him. The piece also highlights Francis' push for reform within the Church and his well-known love of speaking to his flock of followers, widely seen as a marked contrast to his predecessor, Pope Benedict XVI
"Against the absurd, impossibly baroque backdrop of the Vatican, a world still run like a medieval court, Francis' election represents what his friend Elisabetta Piqué, an Argentine journalist who has known him for a decade, calls a 'scandal of normalcy,'" wrote journalist Mark Binelli in the article.
This is not the first time Pope Francis had landed a magazine cover. Just last month, he was named Time Magazine's Person of the Year.
The 76-year-old Argentinean assumed the office during a bleak time for the Catholic Church – ensnared in scandal, corruption and a loss of followers to evangelical Protestant orders. Time noted the pope's compassion, humility and focus on the poor has "changed the music" of the Catholic church and in the process has become "something of a rock star."
A spokesman for the Vatican, Jesuit father Federico Lombardi, issued a statement in response to the Time cover, stating that the pope is "not someone who seeks fame and success, because he has put his life at the service of announcing the Gospel of the love of God for mankind. It is pleasing to the Pope that this service should appeal and give hope to women and men. And if this choice of 'Person of the Year' should mean that many people have understood this message – at least implicitly – the Pope is really happy about this."
Along with Time and Rolling Stone, Pope Francis was also put on the cover of The Advocate, the country's leading publication for the gay and lesbian community, which also designated him its Person of the Year, noting the decision was named in large part to Francis' comment about homosexuals: "Who am I to judge?"
"The brevity of that statement and the outsized attention it got immediately are evidence of the pope's sway," writer Lucas Grindley wrote in The Advocate.
"His posing a simple question with very Christian roots, when uttered in this context by this man, "Who am I to judge?" became a signal to Catholics and the world that the new pope is not like the old pope."
Follow us on twitter.com/foxnewslatino
Like us at facebook.com/foxnewslatino