Pope Francis, Man Of Surprise: Before Serving The Church, He Minded The Nightclub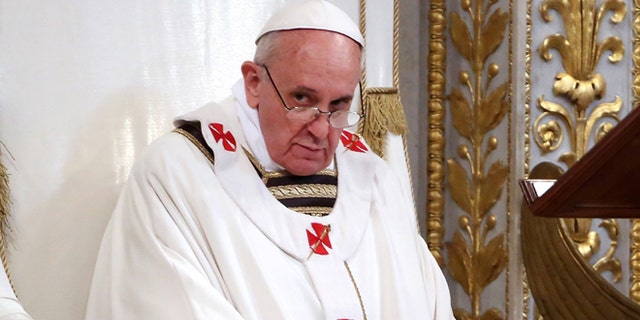 With an established reputation as being full of surprises, Pope Francis revealed yet another little gem this week: Back in his younger days, he worked as a nightclub bouncer.
The Vatican newspaper L'Osservatore Romano reported that during a visit to a church near Rome on Sunday, the Argentinean-born pontiff shared with parishioners that before becoming a priest he held a variety of jobs – including keeping an eye on potential troublemakers in a busy Buenos Aires nightclub.
Other remarkable points of his resume include sweeping floors and running laboratory tests; later on he became a literature and psychology teacher, which, he said, eventually led him to the seminary.
During the four-hour visit, the Pope chatted with a large number of parishioners before and after celebrating Mass. One of the questions was how he felt celebrating his first Mass after being elected pontiff.
"Was I anxious? A little, yes, but everyone was nice. But it's true, having a lot of people in front of you is a bit scary," he said, as quoted by Catholic News. But he said stage fright is a thing of the past now. "Thank God I feel really good. The Lord helped me be a priest, to be a bishop and now to be the pope."
Back in June, Pope Francis opened up about his life as the head of the global Roman Catholic Church, with more than one billion followers, revealing that he never wanted to be pope.
Answering children's questions one by one, Francis told them the decision to become a priest had been difficult and that he had suffered "moments of interior darkness" when "you feel dry, without interior joy."
But he said he went ahead because he loved Christ.
One of the most touching moments came when Teresa, a bright-eyed redhead no more than six years old, asked Francis flat-out if he had wanted to be pope.
Francis joked that only someone who hated himself would ever want to be pope. But then he became serious: "I didn't want to be pope."
Someone else asked him why he had renounced the papal apartments in the Apostolic Palace in favor of a much more modest two-bedroom residence.
It isn't so much a question of luxury as personality, he said.
"I need to live among people," he said. "If I was living alone, isolated, it wouldn't be good for me. A professor asked me the same question, 'why don't you go and live there (in the Papal apartments)'? And I replied: 'Listen to me professor, it is for psychiatric reasons,'" he said, chuckling.
Follow us on twitter.com/foxnewslatino
Like us at facebook.com/foxnewslatino