Pope Francis honors French priest slain by Islamic extremists during Mass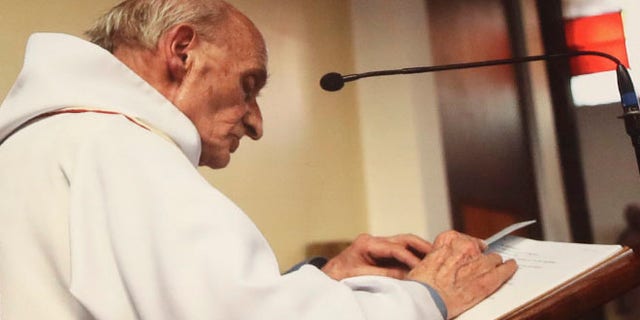 NEWYou can now listen to Fox News articles!
VATICAN CITY (AP) – Pope Francis honored the French priest who was killed by Islamic extremists while celebrating Mass, calling him a martyr on Wednesday and urging all people of faith to have the courage to denounce such killings as "satanic."
Francis celebrated a morning Mass in memory of the Rev. Jacques Hamel, who had his throat slit July 26 in his Normandy church. Police killed the assailants, and the Islamic State group claimed responsibility.
Hamel's relatives, members of his Saint-Etienne-du-Rouvray parish and the Rouen bishop attended the intimate Mass in Francis' hotel chapel. In his homily, Francis lamented the persecution of Christians today and denounced Hamel's slaying as the "satanic thread of persecution."
Francis recalled that before being killed, Hamel cried out to his killers: "Satan, get out!"
"This example of courage, and the martrydom of one's own life, to give everything of oneself to help others, to make brotherhood among others, helps all of us to go forward without fear," Francis said.
He said Hamel was a martyr to whom all people of faith should pray for peace "and also the courage to tell the truth: killing in the name of God is satanic."
Francis placed a photo of the elderly priest on the altar, and told the bishop that his photo could be exhibited in churches since as a martyr, he was already considered a "blessed" — the first step to possible sainthood.
Francis has previously sought to distinguish individual attacks against Christians by Islamic extremists and Islam itself. Immediately after Hamel was killed, he declined to label Islam as "terrorist," but said every religion has extremist fringes.
Rouen Bishop Dominique Lebrun was asked by reporters afterward about the implications of the pope terming Islamic extremist attacks as "satanic," and whether some might believe his criticism was an indictment of Islam itself.
"The assassins, I think they accepted influence of the devil, of Satan. The assassins — just this," he said.
Hamel's sister, Roslyne, who joined the Rouen pilgrimage group and attended the pope's Mass, was clear that Islam itself wasn't the inspiration for her brother's death.
"Our Muslim brothers pray to a God who is our God and who is a God of love, of tolerance of sharing," she told reporters. "It is certain that these young men killed my brother, they assassinated him, in the name of a God who kills, and that is not the God of Islam and it is not the God of Christianity."
Like us on Facebook
Follow us on Twitter & Instagram