PETA offering $5G reward to catch 'dog abuser' who allegedly poured chemicals on Shih Tzu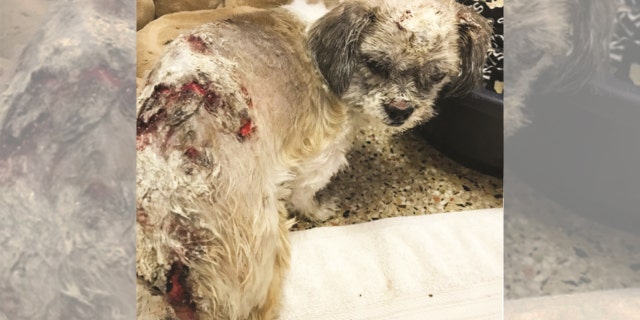 People for the Ethical Treatment of Animals (PETA) is offering a reward up to $5,000 for anyone with information about a dog that had harmful chemicals poured on his head and back.
The 2-year-old Shih Tzu was found lying on a flower bed "on the brink of death" in the St. Charles Parish community of St. Rose, La. last week.
Barely able to move and unable to open his eyes, the pup was rushed to Ark Animal Hospital for treatment. While he's alive, the young dog faces a "long, slow, and painful recovery," according to PETA.
15 OF THE CUTEST DOGS ON INSTAGRAM
PETA said it is determined to hold the person who did this responsible. In a statement released Wednesday, the organization said it's seeking "information leading to the arrest and conviction on cruelty charges of the person(s) responsible" and in turn is offering the reward as incentive.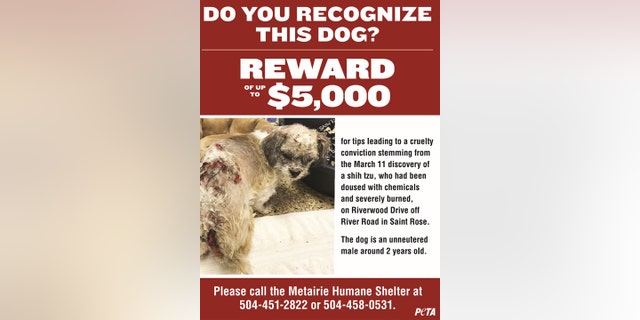 PETA also created a downloadable flier to be hung around the city, not far from New Orleans — it shows a graphic photo of the unneutered male pup with painful-looking chemical burns along his body.
"Someone out there poured harsh chemicals on this little dog, leaving him lying in agony on the brink of death," PETA Vice President Colleen O'Brien said in a statement.
"PETA is urging anyone who recognizes this dog or saw anything suspicious around March 11 to come forward immediately so that whoever burned him can be held accountable and stopped from hurting anyone else."
FOLLOW US ON FACEBOOK FOR MORE FOX LIFESTYLE NEWS
A St. Charles Parish Sheriff's Office spokesman told The Times-Picayune the incident had not been reported to their office.