Pet owners spend thousands a year to keep their furry family members happy and healthy, study finds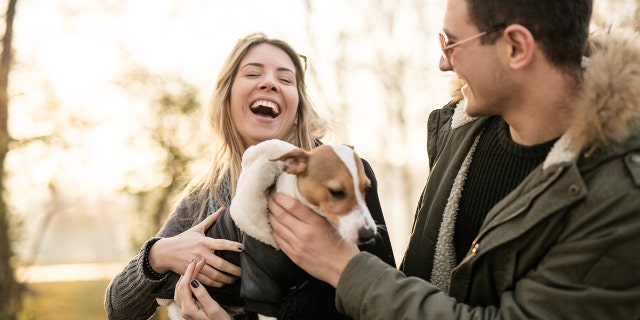 The average pet owner spends more than two thousand dollars a year on their animal, according to a new study.
Research examining the financial commitment of keeping a dog or cat revealed it costs an average of $2,260 to take care of them for an entire year alone.
That means that 10 years of owning a pet costs an owner well over $20k when tallied up.
The survey of 2,000 cat and dog owners, commissioned by VIP Petcare, found many costs can be unforeseen- the majority (65 percent) of the pet owners surveyed had experienced an unexpected cost due to a pet-related medical emergency.
And that can have repercussions later, six in ten (57 percent) have unfortunately struggled with paying for treatments and surgeries for their pets.
A devastated 49 percent report having to put down a sick pet due to a serious illness that they were completely unaware of.
The strength of the bond between pet and person was extremely evident in the 84 percent of pet owners who say they see themselves as 'pet parents'.
Three-fourths of the millennials surveyed believe that there are similarities to raising a pet and raising a child.
Over two-thirds (68 percent) of millennials have even raised a pet in preparation for raising a child
No wonder then that seven in ten pet owners see their pet as a family member. While some even reported taking their pets on vacation and even on dates.
As they're taking care of their beloved pets they spare no expenses - spending an average of $236 a year on special treats and dinners for their four-legged friends.
Half of the pet owners surveyed have even fed their pets a delicious steak dinner or cooked them a nice homemade meal.
It makes sense why people take such good care of their pets. The research shows many owners believe their pets have vastly improved their lives.
Three-fourths report becoming happier after adopting a pet, and 68 percent believe the animal gives them comfort.
A quarter of millennials regularly cry to their pets, and half have even shared a secret with their pet that no one else knows about.
Another reported advantage to having a pet is better health. In fact, 54 percent of dog owners credit their improved exercise habits in part to their pets.
Pet owners also don't spare any expenses when it comes to their pet's wardrobe. The average owner spends $323 on their pet's wardrobe and grooming each year.
While there's no question that taking care of a pet is an expensive responsibility, some cost is more avoidable than others.
Owners spend an average of $296 a year on unexpected health care costs due to injuries or unforeseen illnesses.
Cat owners report spending less than dog owners per year, on average ($1,545.24 vs. $2,252.46).
"We know the importance of pets within the family, and know that pet owners want to do everything that they can to provide the best possible life for their pet," said a spokesperson for VIP Petcare.
"It takes ongoing, regular care to fully protect our pets. That is why we make it convenient to find a clinic with all of our partner host locations and wellness centers."