Owl gets loose at wedding, leaves best man 'terrified'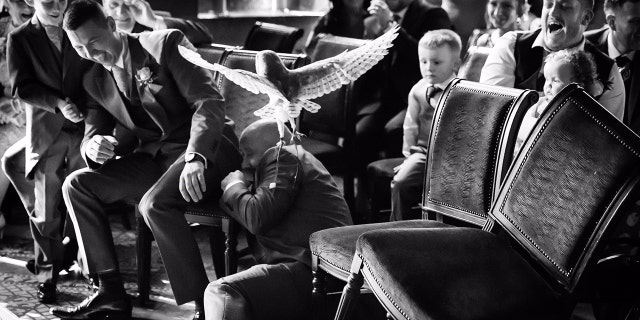 Forget about the bride — at a wedding in Cheshire, England, all eyes were on an ornery owl that got loose during the ceremony.
The scene unfolded at the March 17 wedding of Jeni Arrowsmith and Mark Wood, at Peckforton Castle in Tarporley, The Telegraph reported. The happy couple was just about to exchange vows when the barn owl — which had been commissioned specifically to fly down the aisle and deliver the rings to the best man — took off from its perch near the back of the room.
PEOPLE ARE GETTING ENGAGEMENT RINGS IMPLANTED IN THEIR FINGERS
Just as planned, the owl landed on the outstretched arm of the best man, just a few feet from the soon-to-be-wed couple. But it quickly became clear that something was amiss, as the owl began flailing and flapping its wings as the man tried to remove the rings from a pouch attached to its claws.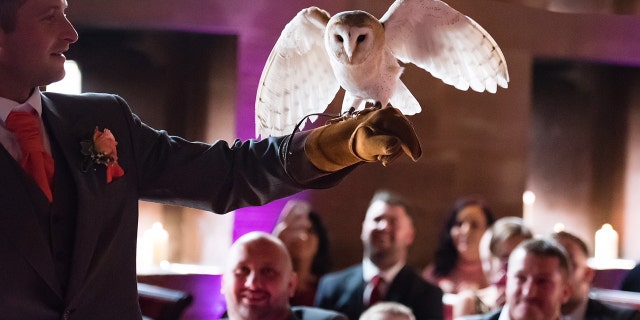 Seconds later, the owl turned its attention toward another of Woods' best men (Wood had multiple best men), after he reportedly pointed at the animal from his seat nearby. The owl then made a beeline directly for the groomsman, knocking him out of his chair in the process.
"The owl sees [pointing] as a sign to fly to the hand," explained wedding photographer Stacey Oliver, of Stacey Oliver Photography, to the BBC.
COUPLE TAKES WEDDING PHOTOS AT TARGET
"The best man was just terrified," she added to the Telegraph. "He's absolutely petrified of anything that flies."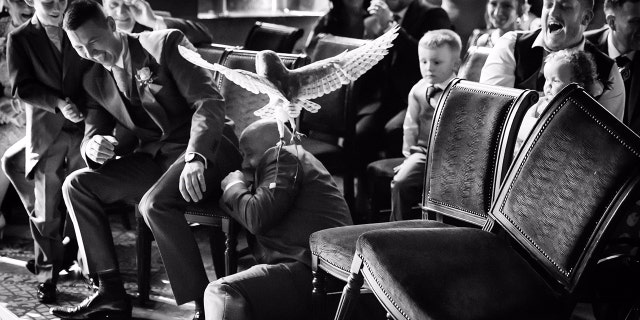 The bride and groom, meanwhile, were reportedly laughing throughout the whole incident. Footage from the wedding shows Wood had actually buried his face in his hands as soon as the owl began causing trouble.
The falconer in charge of the owl soon rushed in to retrieve the bird, which had since settled on a table.
FOLLOW US ON FACEBOOK FOR MORE FOX LIFESTYLE NEWS
Arrowsmith, however, didn't seem to mind the avian interruption, as it ended up leaving her guests doubled over with laughter.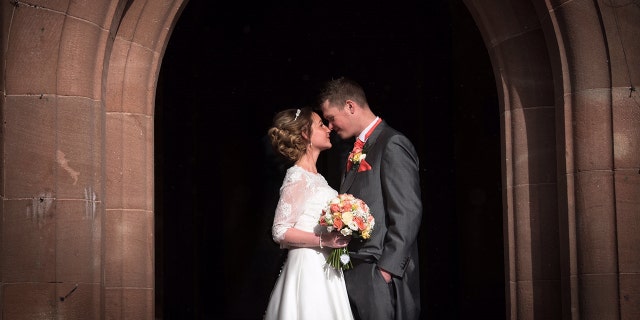 "I was chuckling that much inside that my stomach was hurting," she told the BBC. "It made the wedding because we were all talking about it all night."