Original Cinco De Mayo In Mexico Is A Serious Observation, Not A Big Party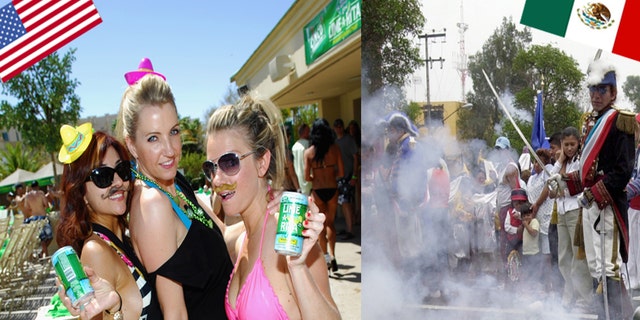 NEWYou can now listen to Fox News articles!
As millions of Americans head to Cinco de Mayo parties throughout the United States this weekend, the Fifth of May barely registers south of the border and it remains something of a mystery how the anniversary of an 1862 battle in Mexico turned into a celebration of all things Latino in the U.S.
The battle marked a turning point in Mexico's fight against French forces who invaded the country after President Benito Juarez suspended interest payments to foreign creditors, chiefly France and Britain. The battle, in the state of Puebla, paved the way to the withdrawal of French forces four years later. Emperor Maximilian, installed by the French as the leader of the "Second Mexican Empire," was executed in 1867.
"In the States, people think it's a big celebration — down here, and it's not."
Little or any of this is reflected in the Cinco de Mayo parties in the United States. For college students in particular, the day often features large quantities of beer, tequila and sombreros.
In Mexico, it is commemorated every year with a military parade in the colonial city of Puebla, 70 miles southeast of Mexico City. This weekend, President Enrique Peña Nieto will preside over celebrations involving 13,000 troops, battle re-enactors, local residents and an Air Force flyover.
Elsewhere in the country, it is barely noticed.
"We don't really celebrate here, except for people from Puebla," said retiree Alejandro Lopez. "I, for one, will be taking my dog for a walk. That's it."
Luis Garavito, who works at a popular Irish pub, said Cinco de Mayo was just like any other holiday – people enjoying a day off.
But for some residents here, the different ways the date is marked south and north of the border show how little Americans know about their southern neighbor.
"In the States, people think it's a big celebration — down here, and it's not," said Grant Cogswell, an American expatriate who owns a book store in the capital's fashionable Condesa neighborhood.
"In the States, Cinco de Mayo is a bar and restaurant promotion thing. Lots of guacamole and drinks."
And rarely a mention of a historic battle in Mexico. Celebrations on the National Mall in Washington this weekend, for example, are being promoted as "an event with food from Latin America, dancers, children's art, crafts and more."
Eric Rojo, a dual U.S.-Mexican citizen who was involved in organizing last year's celebrations to mark the 150th anniversary of the Puebla battle, said it would take a long time for Cinco de Mayo to be recognized in the United States for what it signifies.
"It's not a Latino holiday. It's not a Hispanic holiday. It's a Mexican holiday," he said with an irritated tone. But he's optimistic that, little by little, more people will actually one day celebrate history and not just margaritas.
Cogswell agrees, noting that social media is helping to get the picture right.
"Every year on Facebook, millions of people learn about what Cinco de Mayo really is. Hopefully, in 25 years everyone will know it."
Meanwhile, most Americans still equate Cinco de Mayo to their Fourth of July. But the country's actual independence day, the leading national holiday, is September 16, a date that marks the beginning of Mexico's War of Independence against Spanish colonial rule in 1810. The country became independent in 1821.
Exactly how and when Cinco de Mayo turned into a big event in the U.S. is something of a puzzle.
"Cinco de Mayo was created in the U.S. for the U.S.," Latin American experts Julie Barlow and Jean-Benoit Nadeau wrote in an essay in the Wall Street Journal today.
"No one knows exactly why Hispanics in California began celebrating Cinco de Mayo at the end of the 1860s…What we do know is that in the 1970s cultural organizers in San Francisco selected Cinco de Mayo from among a slate of holidays," they wrote.
For Jose Ortiz, a Puebla-based anthropologist for Mexico's National Institute of Anthropology and History, a detailed understanding of history is not a matter of overriding importance.
"Like all things, the meaning of the holiday becomes transformed over time and now it is taken as a symbol of Latin culture in general," he said.
"There will always be a minority who is well informed, and a majority that uses it to suit their purposes," Ortiz added. "It's important that people celebrate, even without a real understanding of Cinco de Mayo's historical context."