Olympics 2016: What to do if you're in Rio de Janeiro for the Summer Games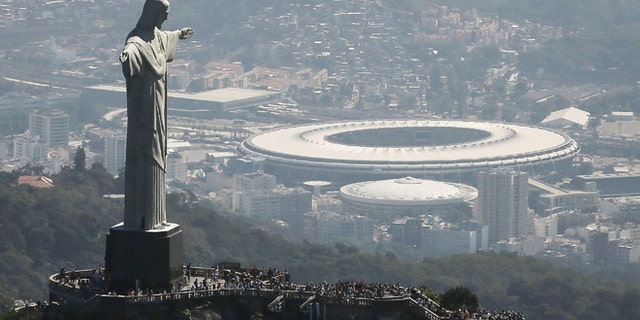 Whether Brazil is ready or not, this summer's Olympics begin tonight and thousands of tourists are expected to flock to Rio de Janeiro during the two-plus weeks of the games, ready to soak up all the sport, culture and excitement that the host city offers. To give travelers – and anyone interested in Brazil – a leg up on their trip, Fox News Latino has compiled a concise list of things to do, places to stay, food to eat and more. Enjoy and be safe.
The Town: It's not known as the Marvelous City for nothing. When most people think of Brazil, images of Rio's famed hills, colorful Carnival celebration, gorgeous, skimpily-dressed women and pulsating nightlife pop into mind. Brazil's cultural capital will be on full display this summer and the 6.45 million Cariocas, or Rio residents, hope to show what the town has to offer.
The mix of cultures that's influenced the city over the centuries – African, European, indigenous – has given rise to a rich heritage and have spawned musical styles like samba, choro, tropicalia and bossa nova, as well as baile funk and the infinite variations heard in the bars and clubs of the Lapa neighborhood.
Security remains a major concern, with street crime spiking the last 12 months. Brazilian security forces have made concerted efforts to help the situation, and military forces will be patrolling the Olympic Park, but parts of Rio remains deeply dangerous. Sprawling favelas, or urban slums, run up into the hills, offering both stunning vistas but also safe havens for drug gangs. While some of these favelas have seen major development and improvement in recent years (especially in Vidigal and Rocinha), visitors should do their homework before venturing into these neighborhoods and employ the help of a local.
Maracanã Stadium: Think of Yankee Stadium, Madison Square Garden and the Rose Bowl all rolled into one. The enormous Maracanã, the site of Friday night's Opening Ceremony as well as the Closing Ceremony on Sunday Aug. 21, hosted the 1950 and 2104 World Cup finals. In its latest renovation for the 2014 Cup, its enormous capacity – once packing in almost 200,000 people – was reduced to a more manageable 73,531. Even so, Maracanã is still the country's largest sports stadium. While the construction improved visibility, expanded access ramps and added a new roof complete with a rainwater collection system, the stadium's facade, which has been listed by Brazil's National Institute of Historical and Artistic Heritage, remained untouched.
Weather: The Olympics may be taking place during South America's winter, but don't expect to need any snow gear if you're traveling to Rio. Average temperatures for the city hover in the mid-70s and rarely dip below 50 degrees, even during the coldest nights.
What to See: This could go on for a while. A person could spend years wandering around Rio de Janeiro and not see everything worth taking in. Some must-dos for any tourist, however, include the train ride up to the top of Corcovado Mountain to visit the famous Christ the Redeemer statue and enjoy the stunning views of Rio de Janeiro. In a similar vein are the dangling cable cars that crawl up to the top of neighboring Sugarloaf Mountain.
No trip to Rio would be complete without a trip to one of the city's beaches. Whether you choose to look for the girl from Ipanema, relax in the posh luxury of Copacabana or surf the pummeling left-hand break at Arpoador, there are no lack of options when it comes to ocean side entertainment. Just remember that Brazilians tend to wear less on the beach than gringos do – children and those with delicate sensibilities might need to have their eyes shielded.
For a more cultural flavor, Rio de Janeiro is home to a slew of museums, cathedrals and colonial architecture. The downtown Centro area is one-stop shopping – home to the National Art Museum, the National History Museum and the impressive Ilha Fiscal, a neo-gothic palace that played host to the last waltz of imperial Portugal in the 19th centure. For those hungry to explore late-night culture, the neighboring Lapa and Bohemian Santa Theresa neighborhoods provide pulsating clubs and cool cafés for partygoers to explore.
Where to Stay: Despite some travelers venturing into favelas for an"authentic" Brazilian experience, the beachside neighborhoods of Ipanema and Copacabana are the main addresses for tourists in Rio de Janeiro. With everything from the Americanized Best Western chain to the elegant Belmond Copacabana Palace (Phone: 1-800-237-1236) to choose from travelers, will be able to stay in comfort. Just be creative and book quickly because many hotels already filled up ahead of the Olympics.
What to Eat: While there are always the beachside barzhinhos de praia where one can grab a quick bite of fresh fruit or coconut milk, for more hearty fare A Garota de Ipanema (Rua Vinicius de Moraes 49, Phone: 55-21-2523-3787) is a solid choice and made famous for being the place where the song "The Girl From Ipanema" was written. If looking to class it up a bit, try Confeitaria Colombo (Rua Gonçalves Dias 32 , Phone: 55-21-2232-2300). An elegant café full of old photos and glass cabinets full of silverware from a yesteryear.
Nightlife: There is no shortage of places to quench your thirst or dance the night away in Rio de Janeiro – from swank hotel bars to dow-nhome local favorites, there is something for just about everybody. Hotel Santa Teresa, a former plantation house in the Bohemian Santa Teresa, features both a cozy lounge and a lantern-lit terrace where hip, young Brazilians drink top-shelf caipirinhas. Feeling like wearing flip-flops rather than dress shoes? Then try the Academia da Cachaça in the Leblon neighborhood, where you chase your shots with some northeastern Brazilian fare. Be sure to sample some of the bar's 500-strong collection of the country's unofficial liquor, cachaça.
Out-of-Town Trip: There may be enough to do in Rio de Janeiro to last a lifetime – and that's not even including going to an Olympic event or two – but sometime you may want to venture outside of the city for a day trip. One good option is heading to the sleepy mountain town of Paraty. About three and half hours from Rio, Paraty is a fully-conserved 18th-century colonial town nestled between the ocean and tall, jungle-covered mountains. Used as a hideout for pirates during Portuguese rule, the town is a must-see for people interested in history and culture. It's also good for rainforest hiking and kayaking.