NYFW: Gabriela Perezutti, the Spark Behind Candela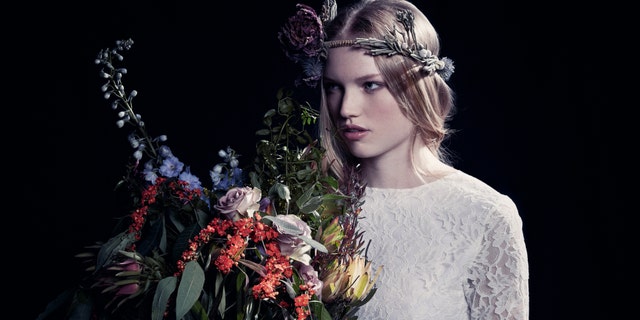 Designer Gabriela Perezutti of the New York-based fashion brand Candela, takes her inspiration from three countries and continues to create wearable fashions in her unique Gaucho urban-chic niche.
Perezutti will be presenting Thursday at New York Fashion Week, the second time she has done so, but the emerging Uruguayan designer has made a mark incorporating elements of nature, wide-open spaces, and the New York subways, to offer a blend of rugged, elegant, relaxed, and timeless clothing for women young and mature.
Candela's Fall 2012 line finds its inspiration from the California Gold Rush, the Comstock Lode, and the look of 19th century miners and settlers. Known for her somewhat Victorian era and folk feel, Ms. Perezutti says this collection will be slightly darker than SS 2012, with some pops of color.
"I saw pictures of the people then and compared it to photos of my great-great grandfather and I was struck," she said. "I'm working in lots of lace, velvet and beading. Using prints with moon shapes and dark florals, it's quite romantic with a rough edge. You'll see lace-up booties and we're styling with some vintage hats as well. But not costumy."
Latinas Dominate Victoria's Secret Runway
The Candela fan base is adamant the line not stray too much from the original ranch-style look. But Ms. Perezutti says she tries not to be too obvious.
"It's more of an adaptation," she said. "Always equestrian and causal, with a country feel, but I try to stretch myself. It's a balance."
Perezutti's start in fashion started at 21 when she put her college degree on hold to pursue a professional international modeling career – eventually walking the runways in Europe and landing on the pages of Vogue Italia.
Since the first T-shirt design Perezutti did for a shop in Brooklyn, to developing her clothing line in the last 12 years, Candela has found it's way in a very Euro and American dominated industry. She's 35 now and has 2 young children, but has managed to bring a distinctly Latin point-of-view to the market.
Growing up on a 200-year-old family ranch in Uruguay, Perezutti says it's because her country is neatly tucked between Argentina and Brazil that she's able to offer a trifecta of influences.
Brazil Kicks of Winter Fashion Show
"My mother is from Souza, Brazil. I'm hugely influenced by the language and the spirit of that country – they're a very happy and vibrant people," she said. "On the other side of Uruguay, you have Argentina. All the immigrants who came to the country after World War 2 have left the country with an Italian and French aesthetic—coming from everything from art, to architecture, to the good food, and great style."
She said Latinos designers have been growing in influence – though they have been around a while.
"Carolina Herrera has been designing for decades. But since the economic crisis in Argentina (1999-2002), I've seen an emergence in local designers," she said. "People in South America began looking less outside of their own countries and it's created a beautiful result. We're united by language, but different regions have distinctive traits. We all have different perspectives. We're like dirt—everywhere. The more the merrier."
Looking forward to new endeavors, Candela will launch an online store this year. Perezutti says rather than opening her own boutique in New York, she will invest in a great online site.
In recent years, Candela's footwear line has gotten huge attention and, at this point, amounts to 60 percent of the line's revenue.
"I do look at people's feet. New York sparks so much of my imagination," she said. "It's a city of diversity and the diversity leads to an open-minded, generous, and respectful person. If it's not in New York, it doesn't exist."
Rebekah Sager is a freelance writer based in San Diego, Calif.
Follow us on twitter.com/foxnewslatino
Like us at facebook.com/foxnewslatino