Nicky Hilton Talks Designing Bags, Planning a Wedding, and Fashion 'Don'ts'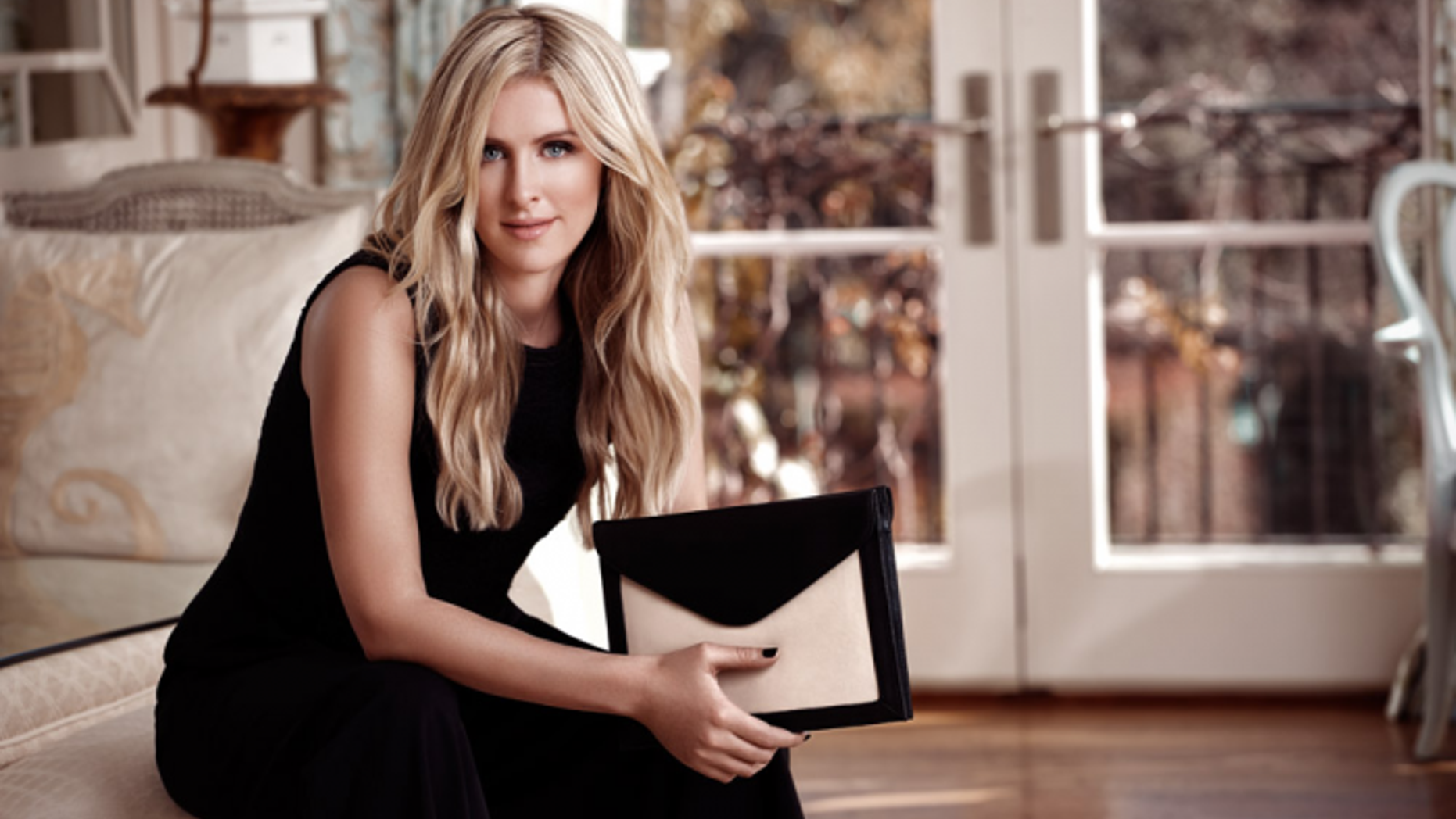 She may be a hotel heiress, but Nicky Hilton is also a savvy businesswoman who wants women to look ah-mazing with the one accessory most of us can't live without.
We're about to embark on the sizzling summer season, but the 31-year-old statuesque blonde is already thinking about autumn, all thanks to her latest creation, which has already made its debut in February at Las Vegas and New York City trade shows. Hilton has teamed up with renowned handbag and accessories brand Linea Pelle to create a Fall 2015 capsule collection, titled NICKY HILTON x linea pelle.
"I grew up with Linea Pelle belts and handbags in my wardrobe," said Hilton in an official statement.. "It was a natural choice to work together on this new collection."
"I'm really pleased with how the collection has turned out," she added. "Each piece is stylish and practical for every day. I try to always design timeless pieces that women will have in their wardrobes for years to come."
However, this isn't Hilton's first time designing handbags for the masses. The celebrated entrepreneur has been passionate about this fashion staple for over a decade now, giving a whole new stylish meaning to the term "bag-lady."
But that's not all Hilton has up her sleeve. She's also a planning her wedding to England-based banker James Rothschild, and potentially even changing her famous last name. (Whoa, right?)
FOX News Magazine chatted with Hilton about her new capsule collection, her style do's and don'ts, and the deets on much-talked about nuptials.
FNM: Can you tell us more about your Fall 2015 capsule collection?NH: I've collaborated with Linea Pelle on a small capsule collection [because] I've really wanted to embody my personality, aesthetic and taste into this line. I've featured my favorite shapes, styles and colors. I wanted to keep it really classic. I kept versatility in mind when designing the bags because I wanted them to be staples in women's wardrobes for years to come. I didn't really want to make something trendy. I was moreso interested in designing for the everyday girl.
The clutches are my favorites, even though I'm the type of girl who carries a lot in her everyday life. I carry makeup, perfume, my phone – you name it and it's probably in my bag. But even though these clutches are itty-bitty and cute, they're also practical, especially for someone like me. I really wanted my collection to be timeless, practical and stylish.
FNM: Just speaking to you, it's so easy to tell that bags are a huge passion.NH: Yes! Bags were actually my first foray into the fashion world. I started designing handbags when I was 17, so this is something I know really well. And I love doing it.
FNM: In your opinion, why should all women have that right bag to complete any look?NH: I just think bags are so personal, yet they can make or break an outfit. Our bags carry all of our secrets and treasures, so it's sort of like a trophy.
What are some major do's and don'ts you can suggest on finding that go-to bag?NH: I like finding unique bags. I'm sort of over the whole "It-bag," where every girl is carrying the same style. When I'm shopping for a handbag, I want something unique, and when I say unique, I mean a shape or print that I'm not going to see everyone and their mother carrying.
FNM: As someone who is all about personal style, I read that you used to tell your sister Paris that it wasOK not to match when it comes to fashion. Could you tell some other tips or advice you've shared with her?NH: I just told her it's OK to mix it up. Fashion, for me, is all about experimenting, taking some risks and stepping outside your comfort zone … There's no real rule when it comes to fashion. It's really just about expressing yourself and having fun.
FNM: What advice can you give to women on finding timeless pieces?NH: I definitely would suggest spending more on investment pieces, like the classics that never go out of style. And when I say classics, I mean something like a plain trenchcoat. I wouldn't invest so much on trendy pieces, because they will go out of style.
FNM: What's one fashion trend you absolutely hate and why?NH: Birkenstocks [laughs]. I refuse to wear those. They are so hideous. I know they were all the rage this past year and a lot of the high-end designers started doing them, but I don't care how comfortable they are, they are not cute. There's nothing stylish about them.
FNM: Looking back, what was your biggest fashion regret?NH: I would say the tanning salon phase. I lived in L.A. a few blocks away from a tanning salon, so needless to say, I visited it way too much. And when I look back at photos, it's a little … shocking.
FNM: If we were to get a sneak peek inside your makeup bag right now, what would we find?NH: You would find black eyeliner, black eyeshadow, black mascara and red lipstick.
FNM: In your opinion, how can any woman enhance her personal style?NH: I think it's all about being original and true to yourself. I think we live in a society where so many young girls are trying to dress like their favorite actor or musician, and it just looks like a bunch of clones walking around. I highly encourage women to find their own original sense of style and come up with [their] own trademarks.
FNM: I was told that you're in the process of planning your wedding. First of all, congratulations. Second of all, what has been the biggest challenge you've faced in the wedding planning process?NH: Thank you! I think planning a wedding in London from New York City has been the most challenging part of the process. There's going to be a lot of back and forth going on.
FNM: I was also reading that you're considering taking your husband's last name. How do you respond to those who are surprised over you changing such an iconic name like Hilton?NH: You know, I'm very traditional, and that's just what happens. The bride takes her husband's last name.
FNM: Now here's a fun little question for you. Which Hilton hotel is your favorite?NH: The London Hilton [laughs]. It overlooks Buckingham Palace, Hyde Park, and there's a Trader Vic's inside. It's honestly the most amazing location.