New York's Hispanic Museum Looks for Recognition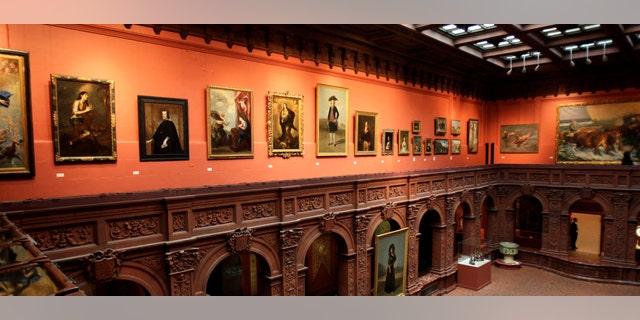 NEW YORK – Located in the upper reaches of Manhattan's Washington Heights neighborhood, the Hispanic Society of America is an imposing museum and research library that is quietly becoming one of New York's hidden gems.
It has a world-class collection of Iberian art that includes works from such masters as Goya, Velazquez and El Greco, and monumental sculptures by Anna Hyatt Huntington, the wife of the society's founder.
Yet the 104-year-old institution in Washington Heights, just blocks from the Audubon Ballroom where Malcolm X was assassinated, is not high on the itinerary of many tourists — or even New Yorkers. Some don't even know it exists.
The Society had briefly contemplated abandoning the area for more tourist-accessible locations downtown like some of its former neighbors: the American Numismatic Society and the Museum of the American Indian. But it has resolved to stay.
It has a new advisory board and marketing strategy and a magnificent renovated gallery dedicated to 14 huge paintings by revered Spanish artist Joaquin Sorolla, canvasses founder Archer Huntington commissioned in 1911 specifically for the room. Executive director Mitchell Codding said the institution's Sorolla collection is the largest outside of Spain.
Staying put in a neighborhood that over time has gone from pastoral to gritty and is now a Latin-flavored urban mix has come at a cost of visitors, revenue and recognition. But the Hispanic Society of America is fighting to make itself and its treasures known to a wider audience, even selling Huntington's coin collection to raise money for new acquisitions.
Tourists from Spanish-speaking countries "make a beeline to come up there," said Michael Mowatt-Wynn, the Society's community outreach advocate. But New Yorkers and other U.S. tourists are far less likely to be aware of it. School groups make up half of the Hispanic Society's attendance.
The museum, which is entered through an elaborately decorated courtyard featuring Moravian floor tiles, averages only 20,000 visitors a year, down from about 50,000 annually in the mid-1950s.
It is easy to walk past the museum tucked behind gates along Broadway's bustling commercial strip because its landmark status prevents it from placing large signs on the facade.
Deborah Miller of Wilton, Conn., who was visiting the museum on a recent Saturday, said she knew about it only because her daughter had worked there as an intern.
"The building is gorgeous," she said. "It is off the beaten track but it's worth the visit."
College student Anita McCollough found out about the museum online while looking for a Spanish cultural organization for a school assignment.
"I live five blocks away and I never knew it was here," she said. "It's like a whole new world here. It looks like a section of the Met."
Picasso's 'Guernica' Undergoes Robot Medical Check
The museum's neighborhood runs from 155th Street to above 190th Street and from the Hudson to the Harlem rivers. It was one of the last areas of Manhattan to be developed and was largely rural when the Hispanic Society opened in 1908 on land once owned by naturalist John James Audubon across from Trinity Cemetery, the burial grounds for New York's social elite.
Huntington lived in a mansion along Manhattan's Museum Mile but wanted his own institution away from the hubbub of Fifth Avenue.
The extension of the subway line to 157th Street in 1906 was one of the primary reasons Huntington chose to build the museum between 155th and 156th streets, said Codding. Huntington soon invited other institutions he was associated with onto his museum's street, Audubon Terrace. Now only the Academy of Arts and Letters remains. Boricua College occupies the former American Geographical Society building.
Mowatt-Wynn said the museum became mired in the changing demographics and economic downturn that struck New York City in the late 1960s and 1970s.
"But now the economic pendulum has swung the other way," and the area's predominantly Dominican and Mexican population is becoming more gentrified, he said.
"We're trying to make the community aware of the treasure we have," said Mowatt-Wynn, who is CEO of the Harlem & the Heights Historical Society. "Until recently, it's been considered sort of as an ivory tower ... a formidable institution that people felt was unapproachable."
The Hispanic Society is in the process of selling off as one lot Huntington's collection of nearly 38,000 coins dating to the ancient world through Sotheby's in a sealed bid auction that ends March 8. Estimated to bring up to $35 million, it had been on long-term loan at the Numismatic Society although never exhibited.
Codding said there are plans to name the museum — but not the institution — the Archer M. Huntington Museum of Art to better reflect the collections' unparalleled scope of artifacts related to the Spanish-speaking world.
It has 6,800 paintings and drawings, 1,000 sculptures, including pieces from the first millennium B.C., thousands of decorative arts objects, including ceramics, textiles and furniture, and 175,000 photographs. The library has 250,000 books, including 15,000 printed before 1701, plus 200,000 manuscripts from the 12th century to the present.
While its permanent collection is unsurpassed in the areas of Spanish, Portuguese and Latin American artifacts, the museum lacks space for temporary exhibitions.
To raise its cultural profile, it loans works to major institutions throughout the U.S., Europe and Mexico. The Metropolitan Museum of Art, for example, has 20 objects from the Society on display at its new galleries for Islamic art. The Society is collaborating with the Meadows Museum in Dallas for a Sorolla exhibition in 2013, and it recently loaned works to the Los Angeles Contemporary Museum of Art for an exhibition on Colonial Latin America.
Mexicana Flight Attendants Turned Calendar Girls Feud after Success
"The more your works are seen in major exhibitions, the more people come to realize that we're a major institution with major holdings," said Codding.
"It's bigger than anything anyone in the U.S. has in Spanish material," he added.
Mowatt-Wynn said he's working with area residents, officials and other cultural institutions "to bring awareness to the jewel within our midst."
The Society is piggybacking on the fame of the Cloisters, a branch of the Met farther north. Fliers inform visitors there of the Hispanic Society, and buses regularly run between the two museums and also from Columbus Circle in mid-Manhattan.
It also is emphasizing the community's cultural and Latin flavor and working to bring more restaurants to the area.
The Society is planning improvements in phases and over time. Eventually, it hopes to build a wing on an undeveloped lot on the terrace that would provide more storage and temporary exhibition space. Work on the facade and roof is scheduled for this year.
"But the hardest problem is creating a greater awareness in the U.S.," said Codding. "It's also a matter of people's attitudes within New York City of going to areas that are above Central Park and getting them to come on a regular basis."
"Everyone who comes up who hasn't been up here, they're amazed," he said.
Based on reporting by The Associated Press.
Follow us on twitter.com/foxnewslatino
Like us at facebook.com/foxnewslatino