'New swastika' t-shirts removed from website after internet backlash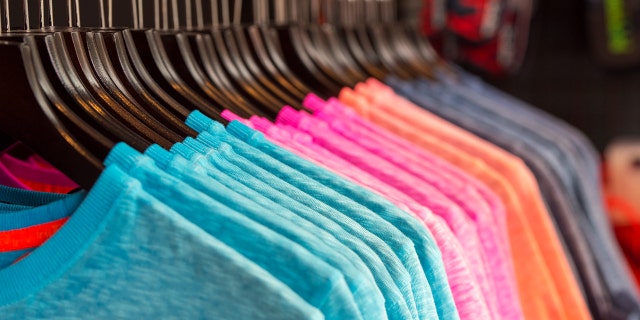 T-shirts branded with "new swastikas" for sale on the custom apparel platform Teespring have since been removed after the company became aware of the design.
The company responsible for the creating the products, KA Design, was selling the clothing (via Teespring.com) with swastikas printed on them in an attempt to "reclaim" the Nazi imagery as a "symbol of peace and love."
The products featured several different designs, all with the "new swastika" symbol over a rainbow background with phrases like "peace" and "love."
On the KA Design page on Teespring, they explain, "We celebrate freedom. We want to explore our boundaries, and push them forward. We love humanity, love and peace. We are KA."
A representative for Teespring told Fox News that KA Design is not affiliated with and in no reflects the views of the company. "The moment Teespring was made aware of the design, it was removed from the site. No t-shirts were sold to consumers and Teespring did not profit from this design in any way."
Teespring also issued an apology for the incident, saying they are taking action to ensure this does not happen again. They use keyword detection, image recognition and manual review to screen the catalogue of inventory. Additionally, the representative said they are "continually improving the processes to ensure content of this nature doesn't appear on the site and they are creating more sophisticated systems and layers of manual review."
To show their support for those who took offense to the designs, the company is making a donation to Yad Vashem, The World Holocaust Remembrance Center."
ELLEN DEGENERES IS SWADDLING BABIES IN LOVE WITH NEW LIFESTYLE BRAND
In a video posted to the KA Design Facebook page last month, they describe the history of the swastika as an ancient Indian symbol of "peace, love, luck, infinity and life" before the Nazis "stigmatized" the symbol by using it to represent "hatred, fear, war, racism and power."
A representative for the company told Dazed they don't care if the t-shirts are bought by Nazis. "We think the message on our apparel is clear: Peace, love and freedom win over hatred, war and prejudice. If some kind of neo-Nazi goes out wearing our shirt, he will raise the same kind of questions and discussions as a communist wearing the same shirt. That's why we don't care about who buys the shirts."
FOLLOW US ON FACEBOOK FOR MORE FOX LIFESTYLE NEWS
The clothing items, which were originally for sale on Teespring for $20-27, received enormous backlash on social media. However, the products were praised by Neo-Nazi website The Daily Stormer.