National Bike Month: How to celebrate this May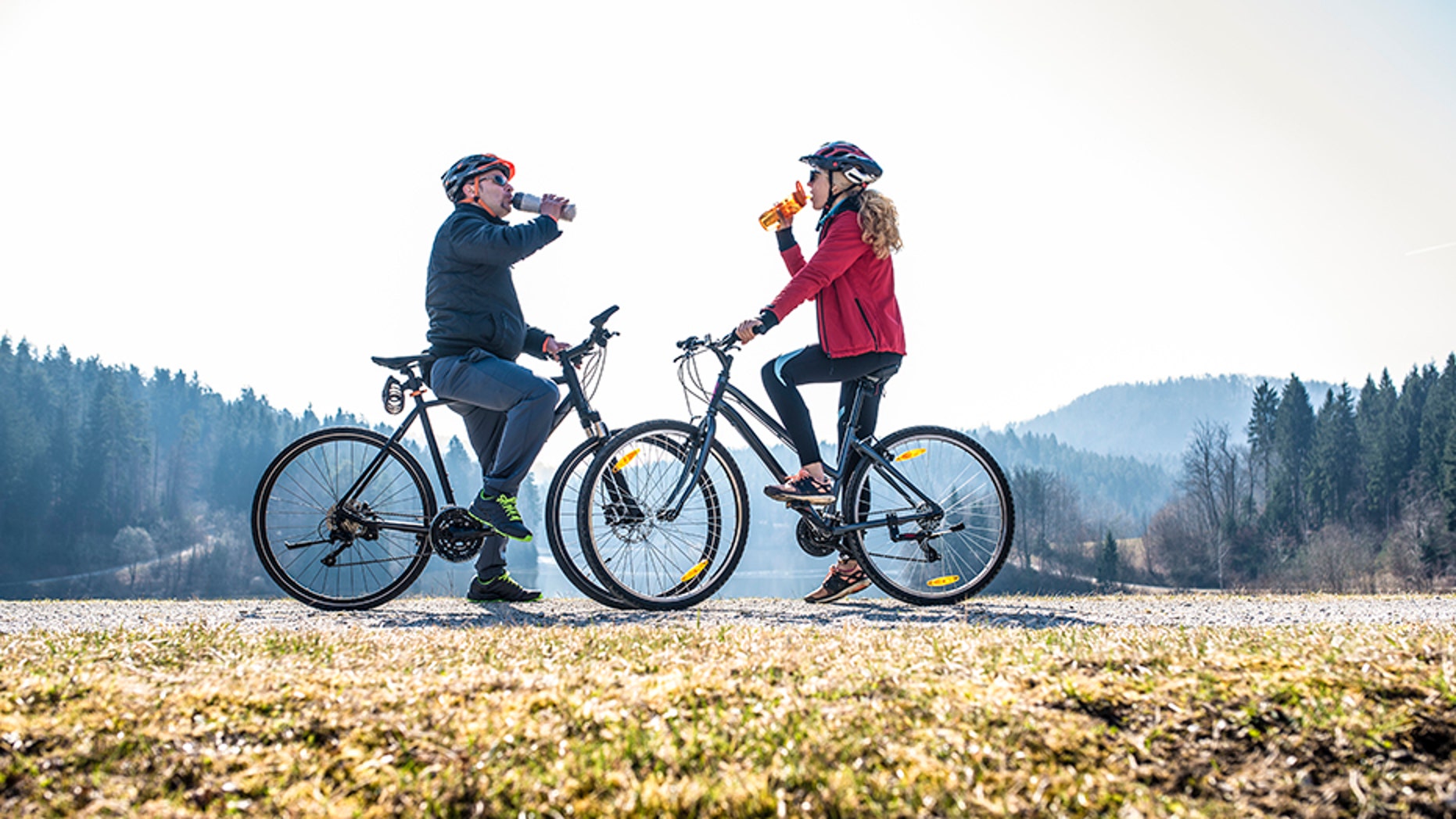 Since May of 1956, The League of American Bicyclists has sponsored National Bike Month "to showcase the many benefits of bicycling—and encourage more folks to give biking a try." It's also a great way to meet other cycling enthusiasts, be environmentally friendly, avoid commuting traffic and save money on gas.
Each year, National Bike Month grows in momentum and offers more ways to celebrate, from commuting challenges to biking adventures in the U.S. and beyond. We've rounded up some of the best ways you can observe this month, and save money, exercise more and avoid traffic woes along the way.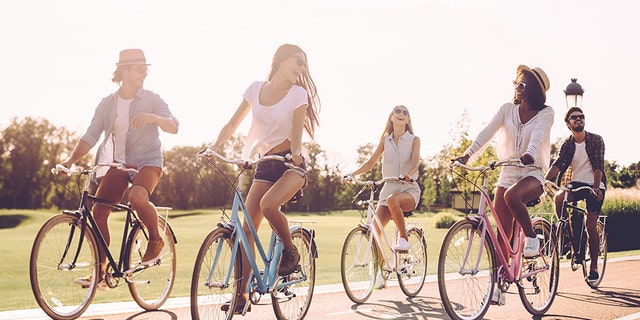 U.S. TOURS
Tupelo, Miss.
Beginning in the heart of the south and the birthplace of the "King of Rock 'n' Roll," this bike tour is a self-proclaimed "Elvis Pilgrimage." A bike tour between Tupelo, Nashville and Memphis, the journey has 12 stops marked significant in Elvis Presley's life including Reed's, the general dry good store where Presley's mother worked, Elvis' birthplace, which doubles as the Elvis museum, and Tupelo Hardware, where the rock 'n' roll star's mother bought his first guitar.
South Walton, Fla.
Walton County, Fla. is home to breathtaking views along the Gulf Coast, including rare coastal dune lakes, endangered bird species, bald cypress swamps and 25-foot high sand dunes. Riders can begin at the local bike shop, Bamboo Bicycle Company, and see all that South Walton has to offer, from ancient oak trees on the Eden Gardens State Park Trail to preserved coastal areas in the Beach Tram Path at Topsail Hill Preserve State Park.
Albuquerque, N.M.
The New Mexico Chile Bike Tour spices up National Bike Month with a three-and-a-half hour bike tour of Albuquerque's most scenic destinations and best restaurants. As bikers ride through the cottonwood forest along the Rio Grande River, they can stop and smell the chile on this culinary-focused adventure. The bike tour partnered with the New Mexico Department of Agriculture to ensure bikers will savor the best of the locally grown chile crop, and the restaurants will make sure bikers enjoy the best local recipes. Learn, bike and savor the taste of New Mexico for $65, or $60 if you BYOBike.
Austin, Texas
For any biker who wants to see the best—or a brief overview—of Austin, the Austin in a Nutshell tour is the perfect adventure. This two-hour tour gives travelers the chance to ride 10 miles of trails along the Lady Bird Lake shoreline, and then take on the city via bike for site-seeing. Check out the Texas State Capitol, Zilker Park, South Congress and Rainey Street.
Hamilton County, Ind.
Experience the rolling hills, iconic farm fields and quaint downtown scenes on a bike tour through Hamilton County. The USBR35 and the Monon Trialoffer Indiana's best views and experiences, from the Main Street Art and Design District in Carmel to Indiana cuisine at Bub's Burgers and Ice Cream. Rent a bike for just $3 from Zagster bike share station and pedal away to witness the best of Indiana.
INTERNATIONAL TOURS
Tour the World on a Bike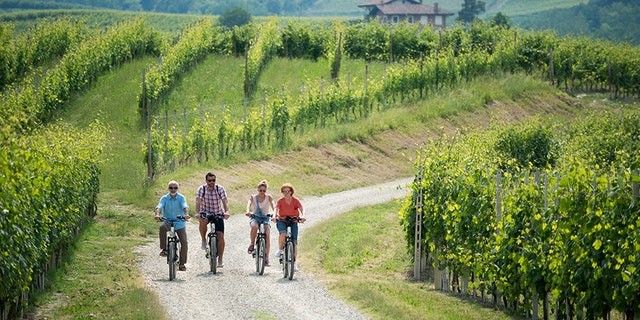 Backroads is an active travel company offering hundreds of tours in Europe, Africa, Asia, South America and the United States. Have a tropical biking adventure through the rolling hills of Hawaii, travel by river cruise to bike through Portugal's history and delicious cuisine or ride along the breathtaking coast of Southern France. Discover the world as you pedal through it, and get a view of the backroads you might not see elsewhere. What better way to celebrate National Bike Month than to make it an international affair?
BIKE MONTH EVENTS
Bike to School Day: May 9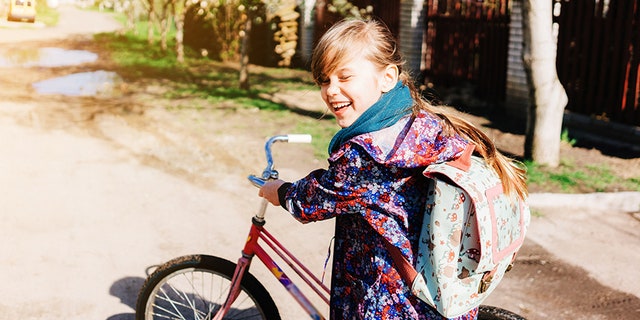 National Bike to School Day started in 2012 with nearly 1,000 events in 49 states and D.C. Inspired by Bike Month and National Walk to School Day, Bike to School Day won't just save parents a trip to school; a morning bike ride also makes students more energized and ready to perform their best in the classroom.
National Bike to Work Day: May 18
Join the movement that started it all. The League of American Bicyclists will celebrate Bike to Work Day May 18, encouraging bikers across the country to get more exercise, emit fewer fumes and save on gas and frustration by beating the daily commuting traffic. Find one of the hundreds of American communities hosting Bike to Work Week.
FIND AN EVENT NEAR YOU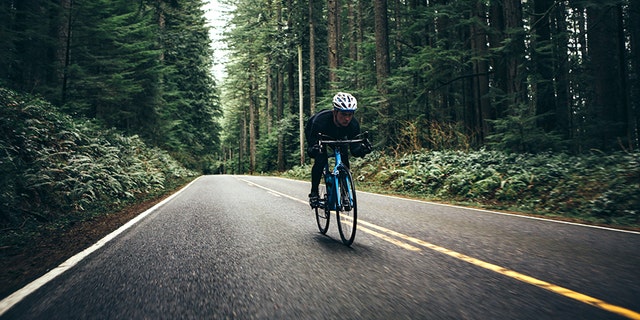 There are more ways to celebrate with local tours where you can ride with your community or entertain your competitive side with competitions this May.
U.S.: National Bike Challenge
Bikers can join Love to Ride and the League of American Bicyclists to compete against other biking teams across the nation in the National Bike Challenge. A team of up to eight riders can earn a point for each mile they ride, and 20 points for each day they get out and ride. Throughout the challenge, teams can view the leaderboard to check in if they're close to winning coveted prizes. With points for encouraging others to ride, too, the challenge doesn't just inspire more biking, but also a community of healthy choices.
St. Louis: Bike Month Commuter Challenge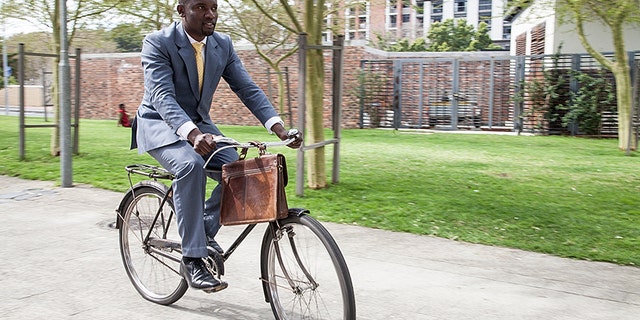 Join Big Shark and their biking fanatic partners for the Bike Month Commuter Challenge in St. Louis. Throughout May, anyone who's registered for a free monthly membership with the Downtown Bicycle Station can log their miles each day with Urban Shark. While the male and female winners will receive a Big Shark gift card, all participants will win a healthier lifestyle and a bit of exhilaration with each commute.
D.C.: Capital Bikeshare
D.C. is taking National Bike Month by storm with several events including the Blessing of the Bikes on May 5, Bike to School day on May 10, D.C. Bike Ride on May 14 and, along with other U.S. cities, Bike to Work Day on May 19. Other festive biking events in the area include the Tour de Chesapeake, the Greater Maryland Tour de Cure and the Northern Virginia Tour de Cure.
Colorado: Bike to Work Day
Colorado's state legislature doesn't want unpredictable mountain weather to get in the way of Bike to Work Day, so they've declared an alternative, statewide event on June 28. For those in the Denver area, the city offers group rides, stations along popular commuting routes, promotional materials to spread the word and t-shirts to commemorate the day.
Los Angeles: Bike Month 2018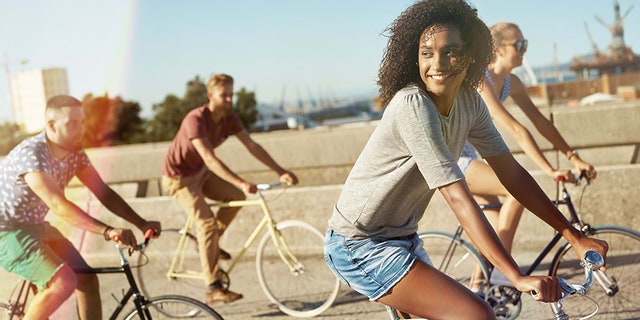 Join Los Angeles County for group rides, workshops and community-hosted events. On Bike to Work Day, join thousands of other commuters in swapping the daily car ride for a biking excursion. The city will offer pit stops across the county for snacks, coffee and encouragement on May 17. On May 18, the city will celebrate Bike Night at Union Station with food, fun and bikes. Find a pit stop on your commute with this map.
North Carolina: BikeWalk NC
North Carolina's statewide Bike Month celebration  might take the cake for biking festivities. From festivals and group rides to educational sessions, the state is offering biking opportunities throughout the entire month. Raleigh will host a Light Up the Night Ride featuring a fashion show on Bikes and a Marbles Kids Museum Bike Rodeo for young bicyclists to learn bike safety. Winston-Salem will offer events like an Electric Bike Forum and Ride and a Bike-In Movie of Pee Wee's Big Adventure. Ride to Charlotte on May 7 for Open Streets 704, a day of car-free streets. Charlotte will also host social events, workshops and group rides with BIKE! Charlotte, as well as a Tour de Fat festival on May 27 featuring A Thousand Horses, a Nashville-based band.