Mom's honest postpartum depression post goes viral on Facebook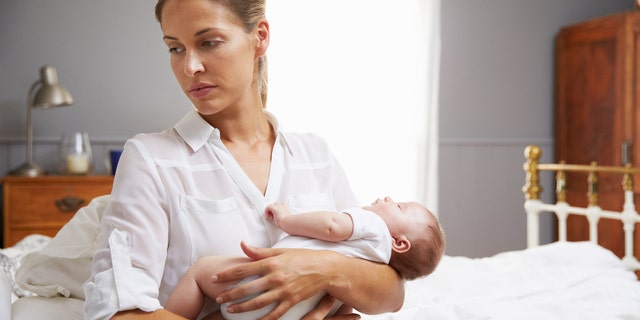 A mother of two's refreshingly honest admission of what postpartum depression really looks like is going viral on Facebook.
"May has been declared Postpartum Depression Awareness Month and as someone with diagnosed postpartum depression, anxiety, and OCD I feel like it's time to show you what that can really look like, not just the side of me that's 'Facebook worthy,'" Kathy DiVincenzo wrote online.
MOM INSISTS HER KID DOESN'T HAVE TO SHARE IN VIRAL FACEBOOK POST
In her post, DiVincenzo shares two similar images of herself and her children. In one image, the floor is clean, and her hair, makeup and clothing are picture perfect, while in the other her tank top strap is sliding off her shoulder, her hair is in a messy high bun, her face is makeup free, and toys are scattered across the floor.
"The truth is, both of these pictures represent my life depending on the day. I would only ever comfortably share one of these realities though and that's the problem," DiVincenzo wrote. "The only thing more exhausting than having these conditions is pretending daily that I don't. I work twice as hard to hide this reality from you because I'm afraid to make you uncomfortable. I'm afraid you'll think I'm weak, crazy, a terrible mother, or the other million things my mind convinces me of and I know I'm not alone in those thoughts."
According to the Centers for Disease Control and Prevention (CDC), about one in nine women experiences postpartum depression.
NEW MOM SAYS STRETCH MARKS ARE 'NOTHING TO BE ASHAMED OF'
Next in her post, DiVincenzo calls on other parents to be aware of the signs and risk factors of postpartum conditions, and start talking about them.
"We need to break the stigma and #EndTheSilence by sharing our stories and letting others know they're not alone," she wrote. "If you have had a postpartum mood disorder please share your story below, or simply post (heart emoji) to show you can relate. Let's show others that they don't have to suffer in silence."
Symptoms of postpartum depression include crying more than usual, feeling angry, withdrawing from loved ones, and worrying you will hurt your baby, according to the CDC. Low social support, difficulty getting pregnant, losing a baby, stress, having a child with a birth defect, or experiencing pregnancy or birth complications are all risk factors.
WOMAN'S HEARTBREAKING POST ON DEPRESSION GOES VIRAL
For those parents struggling from postpartum depression like her, DiVincenzo ends the post with an inspirational message.
"In case no one has told you, you're doing an amazing job," she wrote. "You are loved and you are worthy. You're not alone. Information to local and national support will be in the comment section. I know how unbelievably hard it is to reach out, but I promise you it is worth it. YOU'RE worth it."
As of Wednesday afternoon, DiVincenzo's post had garnered over 70,000 shares, over 46,000 reactions, and nearly 13,000 comments on Facebook. The comment section is covered in heart emoji.