Moms are wearing babies' umbilical cords as jewelry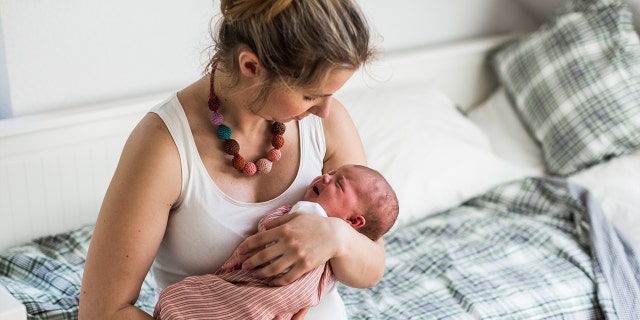 Cut that out! Doting moms are so attached to their newborn babies that they're holding onto their children's umbilical stumps as keepsakes and turning them into jewelry.
The stump is the part of the umbilical cord that stays on the child's stomach after the cord is cut. It falls off naturally within 7 to 21 days.
NEW MEXICO TEENAGER PRAISED FOR 'PERFECT' TIRED MOM COSTUME
Ruth Avra, a jewelry designer based in Florida, was inspired to make umbilical stump bobbles in 2012 when she gave birth to her son shortly after her best friend also welcomed a boy.
"I put both stumps next to each other on the table. Lightning bolts struck and I had a plan," Avra told The Post.
After Avra made the stumps into necklaces, she decided to do the same for other mothers wanting to hold on to their child's umbilical cord forever.
The silver pieces – made by a process called lost wax casting – cost just under $200 and can be purchased on her website. No two stumps are alike, and the shape of each piece is entirely determined by the shape of the cord stump.
"It represents the connection between mother and child because it's literally the physical connection that is between you," Avra said, adding that once the stump falls off, the necklace is a symbolic way of commemorating the bond.
FOLLOW US ON FACEBOOK FOR MORE FOX LIFESTYLE NEWS
Avra isn't the only company on the market making jewelry from the often overlooked and discarded stumps.
Speckled Milk makes a sterling silver umbilical stump ring that goes for $80.
The company also makes jewelry from breastmilk, hair, placenta, wedding veils, as well as pet and human ashes.
This story was originally published by the New York Post.