Mom slammed over letting daughter, 4, have PB&J sandwich at Target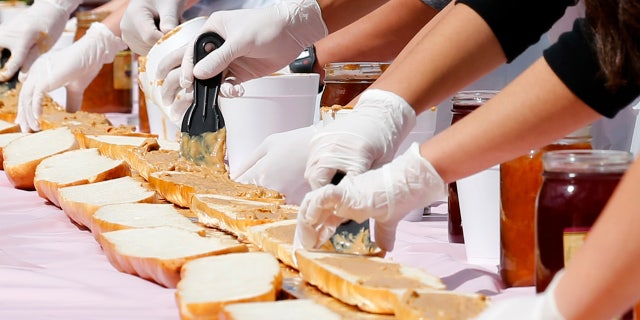 Talk about indigestion.
A woman who took to a parenting blog to ask if she was in the wrong for allowing her 4-year-old daughter to eat a peanut butter and jelly sandwich at Target was criticized for her 'obnoxious' move.
The woman asked the question on a New York blog called UrbanBaby, the San Francisco Chronicle reported. She set up the question by telling readers that she was "lectured" by a woman who noticed the child eating the sandwich in a shopping cart.
"Your total disdain for the safety of other kids is awful," one post read. "Feeding your kid a PB&J in a Target shopping cart is the epitome of low brow. For the love of God at least feed her in the car if you absolutely can't feed her at home! Everything about your post is vile."
Millions of children are allergic to peanuts, and some may have life-threatening reactions if accidentally exposed to them.
Last year, the National Institutes of Health issued new advice, saying most babies should get peanut-containing foods starting around 6 months, in age-appropriate forms like watered-down peanut butter or peanut puffs — not whole peanuts, because those are a choking hazard.
The Chronicle's report pointed out that blog readers took issue with the mom simply allowing her daughter to eat a sandwich in the store, and pointed out the amount of germs in shopping carts.
"You're the worst kind of person," another post read. "Just understand that raising a child with an I don't care about others attitude means they will be obnoxious insufferable kids just like their mom. A grown up would tell their kids we can't eat that right now because it may cause another child to get sick. Period. Why do we need to explain this to you?"
The Associated Press contributed to this report.