Mom shares how she's teaching her child to be body-confident in a viral post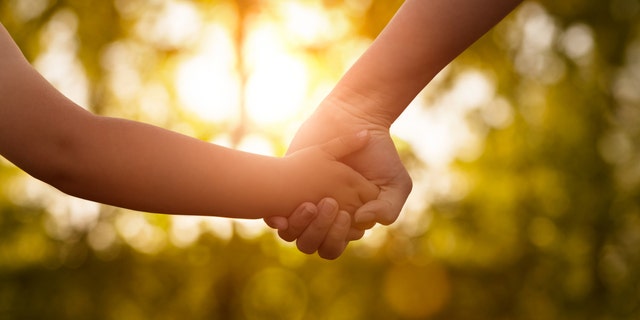 Brittney Johnson took a trip to the mall with her daughter and learned a valuable lesson not only about parenting but body confidence.
The 27-year-old shared the mother/daughter shopping moment in a Facebook post on May 8.
In the post, she explains how her young child tagged along while she tried on bathing suits.
MOM'S HONEST POSTPARTUM DEPRESSION POST GOES VIRAL ON FACEBOOK
Johnson wites that she never realized how much she focused on body image and beauty versus other characteristics when she caught a glimpse of her child trying on a bikini top.
"See that sweet baby girl in the corner? With half a dress on and one of the bikini tops I had picked out?" Johnson writes in the post. "I stopped for a second to see what she would say and when she turned to the mirror, she said 'Wow I just love cheetah print! I think I look beautiful! Do you think I look beautiful too?! ..when it hit me that she only says what she hears. What she sees. I tell her that she is beautiful every single day."
Johnson writes that, while she notices her daughter's traits of kindness and politeness, she tends to focus on calling her beautiful.
"She is kind walking through the mall, because I tell her she is kind everywhere else," Johnson writes in the post. "She is polite at the order counter because she hears me when I'm polite to strangers everywhere."
WOMAN'S TRANSFORMATION PIC GOES VIRAL — BUT NOT FOR THE REASON YOU MIGHT EXPECT
Johnson said it was in that moment she knew she had to be a living example of a healthy self-image from the inside-out, and she calls on other mothers to do the same.
"When it comes to manners, be an example," she writes. "When it comes to kindness, be an example. And when it comes to body image, be an example. I am not a size zero. I never will be... I will always remind her that the girls who look the prettiest in a two piece, or a body suit, or a freaking Snuggie, are the ones who are happy. Because that's ALL that matters. And I want her to look at herself every single day and say "Oh wow! I think I look beautiful!" because EVERY girl deserves to feel that."
Since being posted, Johnson's post had been shared over 166,000 times, and recieved over 325,000 reactions and 20,000 comments as of Tuesday afternoon.
FOLLOW US ON FACEBOOK FOR MORE FOX LIFESTYLE NEWS
Many Facebook users have applauded Johnson for her approach to mothering her child.
One user wrote, "You're an inspiration to all mothers out there. Thank you!"
While another commented, "Thank you for being a great mom and human."