Model taken hostage by abusive boyfriend saves herself using selfie of badly beaten face
A brave model from London managed to save herself from a life-threatening hostage situation after secretly sending a selfie of her bruised, battered face to a friend.
Martha Dolak, 31, has decided to speak out about the harrowing ordeal in order to raise awareness for those suffering from domestic abuse, as the man holding her hostage was her abusive boyfriend of 18 months, The Sun reports.
'TOBLERONE TUNNEL' IS DANGEROUS NEW TREND ON SOCIAL MEDIA
According to Dolak, her 30-year-old boyfriend, Michael Goodwin, became angry with her after seeing a text from a friend urging her to dump him, and subsequently locked her in his South London apartment for 21 hours back in October of 2017, the Mirror reported.
"When he saw the text message he was livid. I was terrified so I tried to get my things and go," Dolak told The Sun.
"He told me I couldn't leave and locked both the doors."
Dolak said she made a break for the window at one point, only to fall unconscious when Goodwin caught up from behind and kicked her in the head, causing "excruciating pain."
Goodwin's two small children were also just one room over when the beating occurred, according to The Mirror.
Dolak later woke up in bed, barely able to move and with a throbbing headache. It was later determined she had suffered a skull fracture, brain hemorrhaging, and permanent damage to an optical nerve, The Sun reported.
"I couldn't lift my head up at all. My eye wouldn't open and my face felt thick with dry blood."
MINNESOTA WOMAN GRADUATES 21 HOURS AFTER GIVING BIRTH
Dolak said she felt for her phone to snap a selfie and assess the damage, and was shocked at what she saw. She secretly sent the photo to a friend, who contacted Dolak's parents. The model's father then went straight to police with it.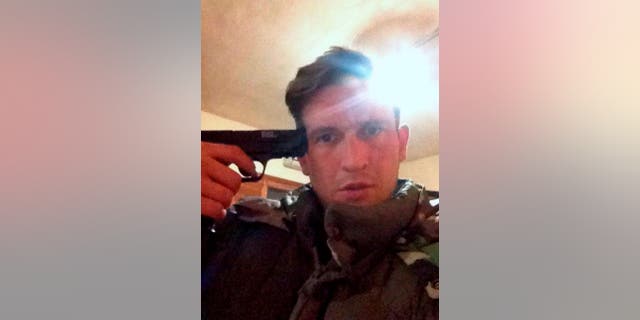 Goodwin fled the apartment shortly afterward, only to return and bring Dolak to a hospital. He told her to tell the doctors she had fallen down a staircase, but once the police caught up to her, she was able to tell the truth.
The selfie she covertly snapped in Goodwin's apartment helped convict him of abuse, and he was subsequently sentenced to four years and three months in prison.
FOLLOW US ON FACEBOOK FOR MORE FOX LIFESTYLE NEWS
Now, Dolak is speaking out to warn others that domestic violence can "happen to anyone."
"I thought because I'm smart, have a degree, am independent and see myself as a feminist, that I would be able to see it happening.
"But domestic violence does not chose someone based on those things."