Millions Of Latinos Have Abandoned Catholic Church Since 2010, Pew Says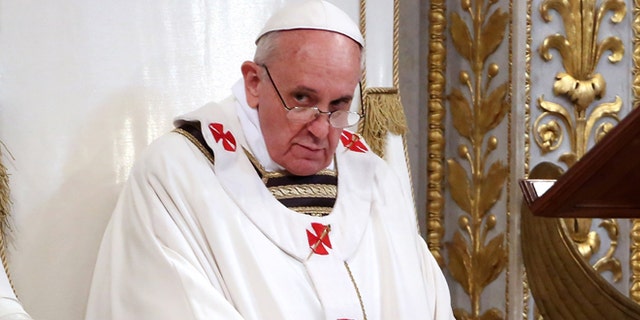 More than 4 million Latinos in the United States have left the Catholic Church since 2010, according to a new Pew Research Center survey that spotlighted the church's ongoing exodus of Latinos, a group seen as pivotal to the future of Catholicism.
In 2010, two-thirds of Hispanics (67 percent) in the U.S. were Catholic. Today, that number has dwindled to 55 percent of the nation's 35 million Latino adults. While close to 20 million Latinos still identify as Catholic, the church has lost 12 percent, or 4 million Latinos in the U.S. over the past four years alone, according to the Pew study released Wednesday.
At the same time, the share of Hispanic evangelicals rose from 12 percent to 16 percent, while Latinos with no religious affiliation increased from 10 percent to 18 percent.
The new survey confirms a concerning worldwide trend for the Catholic Church, which has been losing followers for years, and is the latest indication the church is particularly losing followers among its strongest base, Latinos in the U.S. and in Latin America.
"The size of this change in such short time is surprising to us -- 12 percentage drop in just four or five years is just larger than we might have expected," Cary Funk, a Pew senior researcher, told Fox News.
The changes partly reflect religious trends in Latin America, which has also seen a steady decline in Catholics as the ranks of evangelicals and nonbelievers have grown. In Brazil, home to the world's largest Catholic population, the number of Catholics has dropped from 125 million in 2000 to 123 million in 2010, with the church's share of the total population dropping from 74 percent to 65 percent.
Concern about the region's losses is believed to have been a factor in the election of Pope Francis, an Argentine and the first pontiff from the Southern Hemisphere. Francis has candidly spoken about the exodus issue, acknowledging that people see the Church as a "relic of the past" and a "prisoner of its own rigid formulas" which instead is in need of "walking at people's side, of doing more than simply listening to them."
Still, the Catholic Church remains America's largest denomination by far, with more than 66 million members, but has been steadily losing non-immigrant parishioners. In a previous analysis, Pew found former U.S. Catholics collectively would be the third-largest faith group behind Catholics and Baptists.
Hispanics are still expected to become a majority within the U.S. church in the coming years given the overall increase in the general Latino population. Already, one-third of U.S. Catholic adults are Latino, Pew researchers said. But Catholic leaders have been struggling to hold onto new immigrants given the shortage of priests and the competitive religious marketplace in the U.S. Nearly every American faith tradition has intensified its outreach to Latinos in recent decades.
Pew found no single reason for the changing Latino religious landscape.
Respondents most commonly said they gradually drifted away from the faith of their childhood or stopped believing the teachings. About 30 percent said they found another congregation that helps its members more. Others said they had a personal spiritual crisis or left for family reasons. While a large percentage of Latinos overall said the church should do more to address the clergy sex abuse scandal, only a tiny percentage cited the crisis as a reason they left.
Pew found about half of U.S. Latinos who left Catholicism did so before they arrived in this country.
However, U.S. religious life has also been an influence. The share of Americans overall who say they have no religion, or "nones," has increased to about 20 percent in recent years. The trend is more pronounced among young people. Pew researchers found similar patterns among U.S. Latinos. Most of those ages 18 to 29 who left Catholicism now say they belong to no particular religious group. Hispanics ages 30 to 49 moved toward both evangelical Protestantism and no religion.
A recent Boston College study found the future of Catholicism will be shaped by how the church reaches out to young second- and third-generation Hispanics. According to the study, 59 percent of current priests that serve Hispanic communities are older than 55, indicating a clear disconnect between young people and the church.
The Pew survey was conducted from May24-July 28 of last year and has a margin of error of plus or minus 2.1 percentage points.
The Associated Press contributed to this article.