Michigan high school seniors sport costumes for hilarious ID photos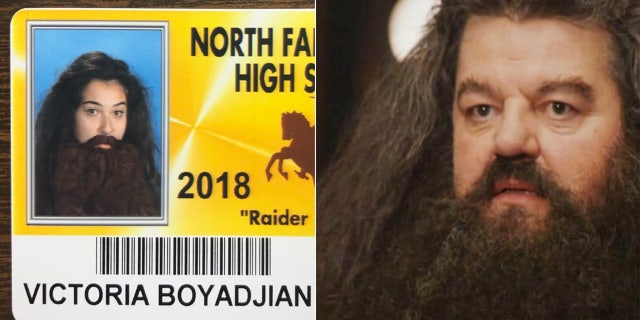 The senior class of one Michigan high school went all-out for a hilarious school tradition of epically dressing up as famous cinematic characters and celebrities for their student ID photos, in a series of images that have since gone viral online.
On September 13, the 12th graders of North Farmington High School in Farmington Hills shared photos of their creative student IDs for the new school year on Twitter, where some have received upwards of 60,000 likes.
Dressing up as everyone from Hagrid of "Harry Potter" to Cardi B, Dwight from "The Office", Colonel Sanders of KFC, Elle Woods of "Legally Blonde", Bob Ross, Ruth Bader Ginsburg, and more, both students and teachers got in on the fun, the Huffington Post reports.
HURRICANE FLORENCE IS DRIVING EVACUEES TO TINDER
According to the outlet, because the graduating senior class takes special portraits for the yearbook, they have permission to go wild for their ID pictures. English teacher Erika Rust said that the tradition began in 2013, and graduating classes have carried the torch ever since.
FOLLOW US ON FACEBOOK FOR MORE FOX LIFESTYLE NEWS
"It is a rite of passage for the seniors and it has been something we have been looking forward to since we were freshmen," student Molly Deighton told the Post.
"The one thing that I really like about it is that it's unique to North Farmington, and while everybody has prom, we have senior ID day, which is always the best day of the year."
Congratulations, seniors, you've earned yourselves an A+ with this one.