Memorial Day 2018: Largest parades in the US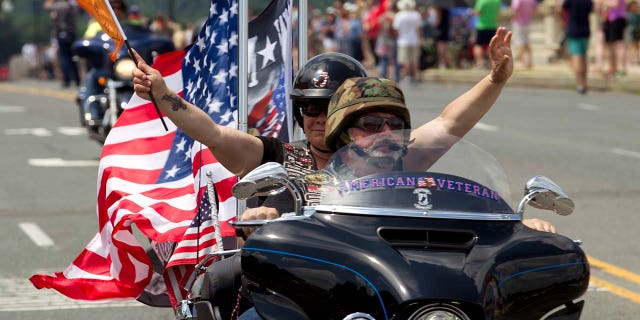 NEWYou can now listen to Fox News articles!
Memorial Day is a time to remember the brave military men and women who made the ultimate sacrifice in defense of our nation, while also honoring those who serve today. From coast to coast, check out the three largest Memorial Day celebrations that patriotically commemorate the holiday.
The National Memorial Day Parade
Held annually along Constitution Avenue in Washington, D.C., the National Memorial Day Parade is "our nation's largest Memorial Day event" with over 250,000 spectators gathering in the National Mall area to show support for our armed forces while cheering on parade floats, youth groups, marching bands and more. Organized by the American Veterans Center & World War II Veterans Committee, the May 28 event is in its 14th year running.
MEMORIAL DAY: 5 THINGS YOU DIDN'T KNOW ABOUT THE HOLIDAY
Little Neck-Douglaston Memorial Day Parade
Billed as one of the biggest Memorial Day festivities in the nation, nearly 10,000 people march in the New York parade organized by a group of local volunteers. The Little Neck-Douglaston event has been held every Memorial Day since 1927, rain or shine.
Chicago's Memorial Day Parade
Held this year ahead of the holiday on May 26, Chicago's Memorial Day Parade is one of the largest of its kind. The event began with a morning Wreath Laying Ceremony at the Eternal Flame on Daley Plaza, with veteran's groups, bands and more then proudly marching south on State Street from Lake Street to Van Buren Street. Various Memorial Day parades and celebrations have been held in Chicago since 1870, by the city's account.