Man wants girlfriend to lose weight for him, gets slammed on Facebook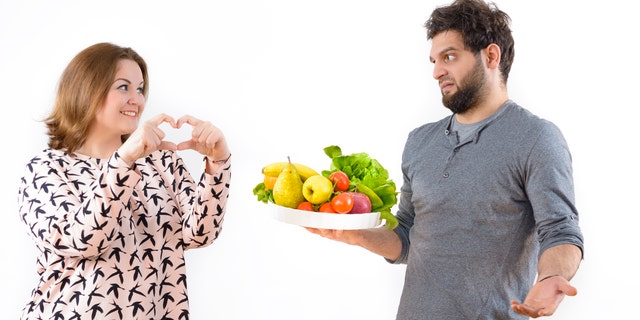 A man interviewed for Humans of New York's Facebook page last week sought advice on how to ask his girlfriend "to lose weight for [him]."
Humans of New York is a page dedicated to photos and stories from New Yorkers. One subject – an anonymous male in the city – was quoted confessing his honest feelings about his relationship.
"We had excellent dates. Everything else about her was exactly what I wanted. I didn't want to ruin something good for that one little reason," he says.
FITNESS TRAINER RESPONDS TO FAT-SHAMING AFTER USA TODAY SEGMENT
But that "one little reason" has stirred a controversy on the post, which has amassed over 30,000 comments and nearly 1,500 shares.
"At first I told myself I could get past it. I said, 'Let's just see how it goes,'" the post reads before he goes on to confess, "But it's been 1.5 years. And I feel horrible, but I just can't get past it."
"And I feel like a bad person for being bothered by it. I can't bring myself to tell her. We're going to couple's therapy next week, but I still don't think I'll be able to say it. Is there any right way to ask someone to lose weight for you?" it concludes.
The majority of people on Facebook have agreed that there isn't a right way to ask.
One person wrote on Twitter, "If a man can't love a woman when she's overweight, he doesn't deserve to love her if she ever decides to lose weight on her own."
"The guy simply has to accept he is not physically attracted to her and move on. Happens to everyone to compromise and realize it doesn't work," one person tweeted.
FOLLOW US ON FACEBOOK FOR MORE FOX LIFESTYLE NEWS
Another person posted on the Facebook page, "No. You are the one with the problem, not her. Do her a favour and end it."
While some comments were more aggressive, with one person saying, "That is a terrible human being," they all pretty much said the same thing – the man should end the relationship.
But there were at least a couple of defenders, with one tweeting, "How is this shallow? He obviously loves her, and wants her to be attractive. Dont[sic] we all want our partner to be attractive?"
No update on if the anonymous man heeded the advice to break up with his girlfriend or discuss the awkward situation at hand.