Man on vacation in Ibiza pranked by friends with dissolving swim trunks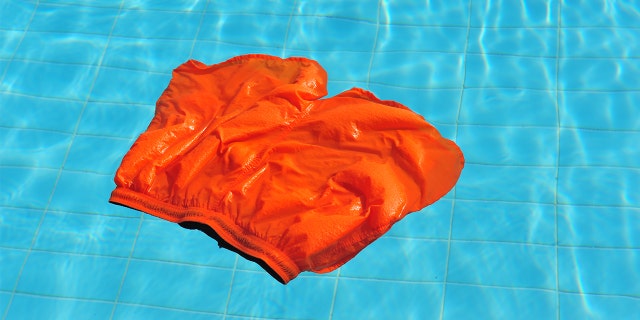 A British man was left baring nearly everything at a hotel pool in Ibiza after his friends gifted him a pair of dissolving swim trunks as a prank.
Lee Kenny was taking a dip while on vacation with his wife and a group of friends when he realized something was terribly wrong with his swimwear.
WARNING: Video contains slightly graphic language, but mostly uproarious laughter.
81-YEAR-OLD GRANDMA YANKS PYTHONS FROM GRILL AT REQUEST OF CONCERNED FAMILY
"My shorts are broke! My shorts are broke!" he says in a video of the incident. As his friend bust out laughing, he asks, "What did you do?"
Once he realizes what's happening, he wades away and climbs out of the pool to head for cover. Kenny can be seen trying to hold up what little remains of his trunks as he walks toward the hotel. A staff member then runs over and covers him up with a drink tray.
One of Kenny's friends, Rachael Whittaker, told UNILAD the group had planned the whole thing before their vacation together.
'INSIDE-OUT EFFECT JEANS' ARE JUST THAT, AND COST FAR MORE THAN JUST FLIPPING YOUR PANTS INSIDE-OUT
"My husband had heard about some 'dissolvable swim shorts' and thought it would be funny to set up our friend," she said. "Everyone was in on the dissolvable swim shorts secret, except for Lee and his wife. We didn't want to risk her letting it slip.
Whittaker said her husband had a pair of the shorts from Little Wedding Treasures custom-made with Kenny's initials and gave them to him as a gift. "Lee took great enjoyment in showing off to the lads how special and important he was for having such great shorts. [He] proudly arrived at the pool…with no idea what was about to happen," she said.
According to the description, the shorts look and feel "like a normal pair of shorts... but once in the pool a chemical reaction causes dissolving of the item, leaving your pal in a spot of bother in the pool."
FOLLOW US ON FACEBOOK FOR MORE FOX LIFESTYLE NEWS
After rushing back to his room to change, Kenny returned to the pool in a different pair of trunks. However his wife joked that he wasn't safe because they'd used a "spray" on all his swimwear to make them dissolve.
If you're looking to pull your own prank, you can buy the dissolving swim trunks online for $38.87, which can be "personalized with the victim's name/initials/nickname or any other wording of your choice."