Lucy Hale apologizes for calling herself 'fat'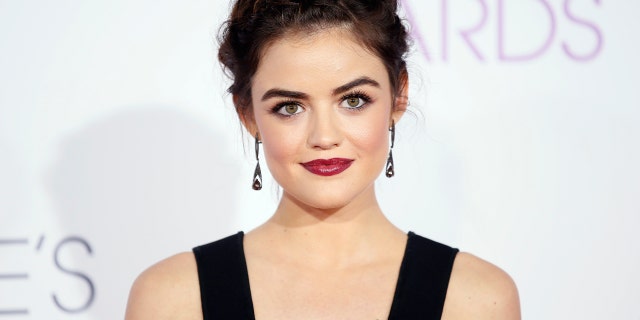 NEWYou can now listen to Fox News articles!
What started out as an innocent Instagram post quickly escalated into something a whole lot bigger.
Lucy Hale posted a throwback photo with her dad for Father's Day on Sunday alongside a sweet caption, "You taught me to have soul. I love you daddy." But problems arose when she commented to a friend, "ugh I was so fat."
Hale's note about her weight has caused quite an uproar with her followers. Many are concerned because Hale serves as a role model to young women and calling herself fat could have a negative impact on their own body image.
"Extremely disappointing to see someone that I consider a role model refer to themselves as 'fat' on a public platform where other girls can also see it," wrote anastasiafranciotti.
"Probably not a great thing to say that this weight was 'fat,' considering how many young girls are going to read that and get upset about their bodies," wrote paigee_larson.
Kasseyh89 added, "Really disappointed that you would use this type of language knowing young girls look up to you. Esp because you were nowhere near overweight you may reinforce harmful thoughts in these impressionable minds."
LUCY HALE QUIT DRINKING TO BECOME 'THE BEST VERSION OF MYSELF'
Other people were quick to come to Hale's defense, pointing out that she has the right to feel insecure about her own body.
"You look beautiful Lucy now and then. You're an inspiration to so many of us and I understand everyone has insecurities and you're only human but I hope you know I think you look beautiful in this picture," wrote benzo.angel.
Hale took to Twitter Monday night to address the comment, apologizing for the incident in a series of Tweets.
"Sometimes I forget that people are watching everything I do and I say things I don't mean," she wrote. "I'm extremely sorry if my comment about my weight offended anyone."
She continued, "Sometimes we can be our own worst enemy. I know people look up to me and I should be way more aware of what I say sometimes."
FOLLOW US ON FACEBOOK FOR MORE FOX LIFESTYLE NEWS
Hale has previously spoken out about dealing with body image issues, and in 2012 she opened up to Cosmopolitan about her struggle with an eating disorder. "I've never really talked about this, but I would go days without eating. Or maybe I'd have some fruit and then go to the gym for three hours. I knew I had a problem…It was a gradual process but I changed myself," the actress revealed.