Latinos with Doctorates on the Rise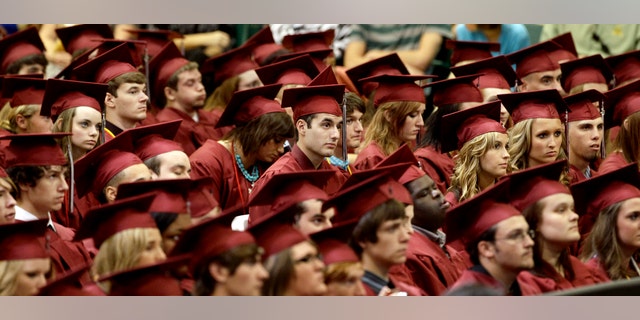 NEWYou can now listen to Fox News articles!
Latinos have emerged as a leading force in everything from politics to professional sports. Now they're starting to take over Ph.D. classes as well.
A new study conducted by the University of California, Berkeley revealed that the number of Latinos holding a doctorate degree rose 161 percent from 1990 to 2010, outpacing the non-Hispanic rate by almost double as that finished at 90 percent.
"The growth that we're seeing in Hispanic doctoral degrees is largely a product of the growth in the Hispanic population generally in the last 20 years, and to a lesser degree reflects some improvements in the economic situation and opportunities," said John Moder, senior vice president and chief operating officer at the San Antonio-based Hispanic Association of Colleges and Universities, according to Bloomberg.
Latinos, along with Asians, started to lead the charge in college enrollment around 2000, with Hispanics who hold a college degree increasing to 13 percent in 2010 from 10 percent in 2000, according to Richard Fry, senior research associate specializing in education trends at the Pew center.
"There's growing evidence that more young Hispanics are eligible for college because more are finishing high school," Fry added.
Fry also credited the recession with keeping students in school, because the lack of jobs has kept students who would have otherwise left to work.
Despite the gains in higher education by Latinos, the group is still a minority compared with non-Hispanic whites. White students pursuing Ph.D.'s at Berkeley outnumber Hispanics almost 7 to 1.
At the start of the 2011 school year there were 385 Latino students working on a doctorate at Berkeley, a 46 percent increase in 20 years. Even though the number of non-Hispanic, white doctoral students fell 25 percent in the same period, they still numbered 2,529.
"It is clear that Hispanic students overall, particularly in doctoral study, are underrepresented," said Gregory Vincent, the vice president of diversity and community engagement at the University of Texas at Austin. "A Ph.D. is this kind of mysterious degree. You have to make sure that first- generation students are aware of that degree."
Follow us on twitter.com/foxnewslatino
Like us at facebook.com/foxnewslatino