Latinos bolstering enrollment numbers at Utah public colleges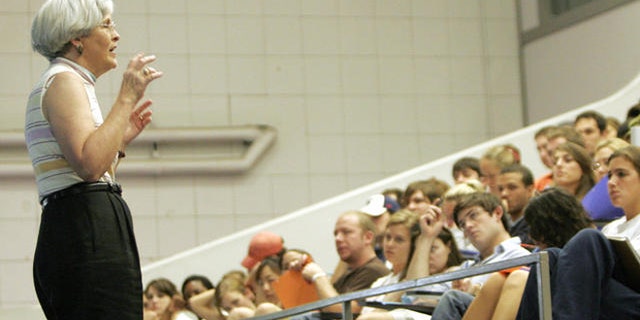 While overall enrollment at public colleges in Utah might be plateauing, there is one demographic group that has seen a dramatic upward shift on campuses: Latinos.
The number of students on Utah college campuses hasn't changed much since last fall, but more of them are now Hispanic, with the demographic climbing 6.5 percent in the last 12 months compared to just a tenth of a percent overall.
"That's great news," David Buhler, Utah's higher education commissioner, told the Salt Lake Tribune. "I'm happy for the progress."
Utah's public universities also reported an almost 11 percent jump in the number of students who self-identify with "multiple" ethnicities and a 4 percent increase in Asian students. Native American enrollment, however, dropped 7.6 percent in that time period.
Part of the demographic Latino shift in Utah schools comes from a greater effort in high schools by recruiters and counselors, along with more information on how students can apply for federal Pell grants, scholarships and financial aid.
"Sometimes people think going to college is so far away and so difficult," Katty Perez, an academic adviser and Latino specialist at Utah Valley University told the Tribune. "We are trying really hard to show that it's not difficult."
Overall, college enrollment in the state is falling because more Mormons are delaying college after the Church of Jesus Christ of Latter-day Saints lowered the minimum age for missionaries from 19 to 18 years old for men and from 21 to 19 years old for women. Utah is about 51 percent Mormon.
And as the Latino population in the state increases – it grew 78 percent from 2000 to 2010, from 157,000 to 358,000, according to 2010 Census data – the Hispanic population seems to making up for shortfall in college enrollment.
The Utah case appears as a microcosm of what is going on across the country as a poll released last year indicated that in 2012 for the first time Latino teens have surpassed their white counterparts in the volume of high school graduates planning to attend college.
According to the poll conducted by the Pew Hispanic Center, 69 percent of 2012 high school graduates who identify as Latino re enrolled full time at an institution of higher learning, compared with 67 percent of white high school graduates.
"It is possible that the rise in high school completion and college enrollment by Latino youths has been driven, at least in part, by their declining fortunes in the job market," the report stated.
Follow us on twitter.com/foxnewslatino
Like us at facebook.com/foxnewslatino